GOP Rep. Brooks: Should've Been Citizen's Arrest of Undocumented Immigrant at SOTU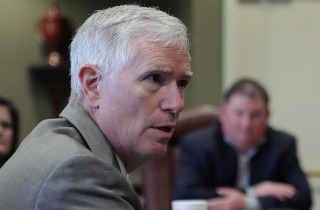 During an interview with an Alabama radio station, Congressman Mo Brooks (R-AL) joked to a host that, hey, maybe he should have performed a citizen's arrest on an undocumented woman sitting next to Michelle Obama at the State of the Union.
The woman in question, 21-year-old Ana Zamora, was a guest of the Obamas and there to represent Barack Obama's accomplishments in passing the Deferred Action for Childhood Arrivals (DACA), which protects children who entered the country with their parents from deportation. Brooks, in the middle of his second term in the House of Representatives, has been staunchly against such programs — as was the host of the show, Dale Jackson.
"The fact that the president had an actual illegal immigrant at the State of the Union, who shouldn't even be there, was just an absolute slap in the face to everyone who's ever lost a job by an illegal alien, everyone who's ever lost a loved one to an illegal alien that shouldn't even be here," Jackson told Brooks.
"I was a little bit disappointed in you in that regard," Brooks responded, noting that Jackson was quite close to the First Lady's box that night. "You could've walked right over and had a citizen's arrest and taken care of that problem, right? [Laughter]"
"I'll leave that up to Congress," Jackson joked.
Listen to the audio below:
[h/t TPM]
[Image via Facebook]
—
>> Follow Tina Nguyen (@Tina_Nguyen) on Twitter
Have a tip we should know? tips@mediaite.com