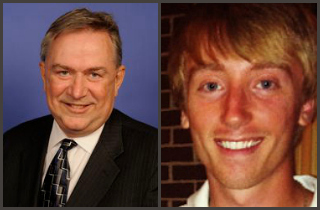 "Trolling," as generally defined by Internet, involves deliberately provoking others into outrage with over-the-top, often cynical or sarcastic rhetoric. Like his politics or not, Rep. Steve Stockman (R-TX) has become something of a congressional expert on trolling his opponents. Today's example only further serves to cement that reputation.
In a clearly unserious press release Tuesday morning, Stockman's office "invited fake ObamaCare enrollee Chad Henderson to be his guest at January's State of the Union Address." Henderson, as you may recall, became the media "poster boy" for Obamacare enrollment after he boasted about having signed up for the healthcare exchange. However, a Reason interview with his father contradicted many details of his story and provoked Chad to clarify that he had not yet actually purchased a plan.
"Chad Henderson is ObamaCare personified. He pushed ObamaCare on other people but refused to buy it himself because he would pay more. He's practically a Democrat member of Congress," said Stockman. "I hope Chad will join me at the State of the Union Address so Obama can point to someone who personifies his policies."
"He claims he can't afford health insurance but he's a four-figure donor to Obama," the congressman added. "I know Obama can't wait to personally meet this dedicated supporter. I'm proud to give him the opportunity."
"Henderson has not yet accepted his invitation," concludes the press statement.
Hmm, you think?
So, yeah — this is expert trolling. Obamacare's biggest defenders will be irritated, and Stockman trolls all the way to the proverbial bank by maneuvering his anti-Obamacare rhetoric into a jokey invitation to a 20-year-old college student.
To be clear, Stockman is no stranger to the trolling game. New York magazine described his Twitter feed as "a tour de force of smug, partisan trollishness," largely because of tweets like this one:
Gunsmith for Mexican drug lords #JobsObamaCreated

— Rep. Steve Stockman (@SteveWorks4You) March 25, 2013
And then, of course, there was this 2014 bumper sticker released by Stockman:

Sheesh.
Love him or hate him, Stockman sure knows how to make people angry.
[images via Stockman/Facebook]
— —
>> Follow Andrew Kirell (@AndrewKirell) on Twitter
Have a tip we should know? tips@mediaite.com