GOP Senate Candidate's Clownish Thoughts on Libertarians: 'Free Hookers and Blow'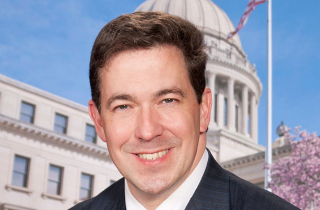 Mississippi State Sen. Chris McDaniel is in the midst of a GOP primary against incumbent U.S. Sen. Thad Cochran this year. BuzzFeed's Andrew Kaczynski unearthed some comments McDaniel made (circa 2005/06) on his radio show that show just how goofy he may be.
"It's so interesting to see this woman, basically using her boobies —I shouldn't have said that— to using her breasts to run for office," McDaniel said on his show, The Right Side, back in 2006. "If that's not the most typical Libertarian platform I don't know what is. The only thing that could probably make the campaign more Libertarian is a heroin needle in her arm." He was likely referring to Loretta Nall, the Libertarian gubernatorial candidate in the 2006 election.
That thoughtlessness about libertarianism continued with several other comments:
"Really, with you libertarians, and I think the platform is, I've said this before, free hookers and blow for everybody."
"Any 7-Eleven you can probably get a discount. Maybe if you get a hooker and some crack maybe they'll give you discount on that. That's the idea of libertarianism."
Bonus points for dropping this common talk radio trope, too: "I think Osama, I mean Obama might be someone who follows God."
In a statement to BuzzFeed, McDaniel's campaign said:
"The liberal press clearly loves to attack conservatives of all types. When Chris got into this race he knew they would throw mud, so it's no surprise they'd dredge up decade-old comments made on conservative talk radio. Chris will continue to deliver his conservative message of controlling government spending, lowering taxes, and repealing Obamacare across the state."
Yes, the comments are from eight or nine years ago; and yes, McDaniel was being a stereotypically clownish talk radio host. But the remarks do serve as a reminder of how some conservatives, while preaching the gospel about limited government, really only prefer it for things they don't happen to find icky. And thus the need to mockingly dismiss libertarians, the actual limited government advocates.
Listen below, via BuzzFeed:
[Photo via Mississippi Senate]
— —
>> Follow Andrew Kirell (@AndrewKirell) on Twitter
Have a tip we should know? tips@mediaite.com