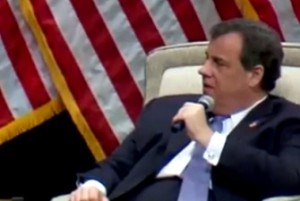 Former Republican presidential candidate and alleged current New Jersey Governor Chris Christie is gone from the presidential race, but not from the campaign trail. During his ill-fated presidential run, Christie took a lot of criticism from his home state for extended absences, most notably during a snowstorm that killed five people in his state.
On Monday, Christie once again relied on Lt. Governor Kim Guadagno to fill his shoes, but this time it wasn't to assess storm damage that he said didn't actually happen, it was to attend the funeral of New Jersey State Trooper Sean Cullen, who was killed in the line of duty last week. Cullen was struck by a passing motorist as he was responding at the scene of a car fire. New Jersey residents who wanted to know why Christie was to be absent from the funeral, though, could not rely on the governor's office for that information. From NJ.com:
Lt. Gov. Kim Guadagno was to attend the funeral instead. A spokesman for the governor declined to say why the governor would not be attending the funeral, or when he would be returning to New Jersey, referring all questions to the Trump campaign.
As it turns out, though, we didn't need the governor's office or the Trump campaign to solve the mystery pf what Christie was doing instead of attending Trooper Cullen's funeral, because we could see it with our own eyes. Here's a little taste:
It was actually tough to find part of that Hickory, NC Donald Trump event that actually featured Governor Christie speaking, because about 98% of it was Christie sitting there nodding as Trump talked for ten-fifteen minutes at a time. The setup was supposed to be like an interview, but Christie didn't so much ask Trump questions as suggest topies of Trump awesomeness for him to discuss. Even by political campaign standards, it was obsequious, and every bit as bizarre as Christie's endorsement of Trump.
With his approval ratings already in the toilet in his home state, Christie has pushed his entire political future into the pot for Trump, and a spectacle like this only raises the stakes for Christie. If a Donald Trump administration never materializes, Christie will be lucky to get elected Lt. Dog Catcher in this state.
This is an opinion piece. The views expressed in this article are those of just the author.