Greta Van Susteren: Your Voice Is Needed Against Limbaugh's 'Slut' Remark (Updated)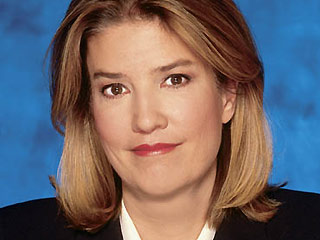 A good portion of the reaction to Rush Limbaugh's tirade against Georgetown University law student Sandra Fluke — a tirade that included referring to Fluke as a "slut" and a "prostitute" and suggesting that she and her classmates post videos of themselves having sex — came in the form of asking which individuals would publicly come out and denounce Limbaugh's comments. Who among the GOP? Who within the media? Who among politicians? And one voice we thought would have been among the first to take the radio host to task was that of Fox News host Greta Van Susteren.
Why? Because she is pretty damn good at calling out B.S. against women on both sides of the aisle and at weighing in on offensive media outbursts in a timely manner..
In March of last year, for instance, Van Susteren took to her blog to call out Bill Maher for having referred to Sarah Palin by a misogynistic term. While conceding that "he has the right to be a pig," she expressed hope that Fox News would never book him again.
A couple months later, she weighed in on liberal pundit Ed Schultz's similar radio tirade, wherein he'd referred to conservative radio host Laura Ingraham as a "slut." She felt Schultz's apology had been sincere and sufficient, and chalked it up to "the competition going stupid."
This past September, she tore into conservative pundit Tucker Carlson for publishing a "disgusting post" on The Daily Caller, which she characterized as "not just smut," but "violence against women."
Last month, she aggressively questioned GOP presidential hopeful Rick Santorum about a dismissive joke his backer, Foster Friess, had made about women and contraception. "Will you at least correct him about that?" she asked him.
And, last year, Van Susteren was even asked to serve on the board of the National Institute for Civil Discourse. Indeed, Van Susteren doesn't limit her blog commentary to issues dealing with women. Just yesterday, in fact, she took to Greta Wire to call for the resignation of Federal Judge Richard Cebull, declaring that "there should be no tolerance for racist jokes."
Basically: She's on top of these things. She's opinionated, she's articulate, and she isn't afraid to take a stand when she's met with an issue she's passionate about.
Greta, your voice is needed on this issue. Speaker Boehner has weighed in on the matter, and Rick Santorum has recently spoken out against Limbaugh's "absurd" rant. Limbaugh is highly influential, and his words — his misogyny, his hatred — don't exist within an echo chamber. As we've seen this week, he has the power to guide and influence the national discourse, for better or worse. It's important, then, for the country, for media consumers, and for voters to see that there are people immersed in media and politics who are not afraid to speak out when one of their own says something so hateful and vitriolic. It's also vital that this issue is not turned into a partisan one as opposed to one man's hateful, personal opinions.
It is my sincere hope, Greta, that you add your voice to those speaking out against Rush.
Ed note: We will keep an eye of Greta's blog and will update this post should she happen to offer a response.
Update: Van Susteren responds on her blog this morning, saying in part:
Suffice it to say the obvious: in these very turbulent times when tempers are running very high, name calling is obviously not helpful and then using that name calling is likewise not helpful. That is a brawl. We break up fights in schoolyards and we need to break up this one and get to the real issues. Everyone needs to dial it back.

An apology is also needed and should be done swiftly. I like the bigness of apologies….and I like the bigness of people accepting them.

Can we also all agree that the word "slut" will not be used again in our political discourse? That the quota has now been met?
Have a tip we should know? tips@mediaite.com