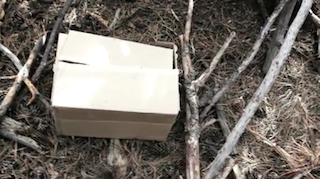 There's always been a vaguely conservative streak in modern horror films. For instance, the preeminent sub-genre of recent decades, the slasher film, has frequently featured the "punishing" of young people for their sexual proclivities (the babysitter and her boyfriend get it on, a man with a knife hacks them up). However, at least the kids in those movies got to have actual sex…with another person. That doesn't seem to be the case in a new film that takes the "socially conservative horror" idea to its logical conclusion. In other words, here's a Christian horror film about ghosts attacking people who jerk it to porn!
The movie is called Harmless and it's about a family being torn apart by a haunted box of porn, a phrase so, uh, terrifying that it makes me giggle just typing it (always the sign of effective horror). Here's the description from the official website:
"Harmless is a feature film shot in the popular found footage style. It's the story about a husband and father and his battle with a box of porn that is found in the closet. Once opened, the box of porn begins to torment the family, much like a poltergeist. It's sort of a social commentary on how pornography can destroy a family."
"Sort of"? That is an incredibly conversational official description. I guess these are cool, casual religious people?
But I digress. Actually, this might just be what the country is asking for. I mean, in addition to being a sexy, topless corpse delivery system, horror is also the film genre best suited for examining the values and fears of the times. And we just had a genuine presidential candidate talking about banning porn while the country, for some reason, didn't respond by pointing and laughing at him. Maybe America is ready for haunted porn.
Besides, the trailer looks kind of fun. They're clearly working with the "Christian Rock Music Technique." That's where you make it impossible to know that you're not getting the real thing unless you listen closely to the words.
So, if we're going to shame all of our teenagers into thinking that their favorite hobby is wrong and unnatural (just the helpful message growing boys need!), this low budget horror movie seems to be the perfect way to do it! And, on the off chance that, like me, you don't consider videos of naked people to be the greatest evil the world has ever known, you can just try and imagine this movie about a father opening up porn and having it ruin his life is actually a metaphor for annoying computer viruses.
See? Much more relatable.
Watch the trailer below. But be warned. After seeing it, you'll die in seven days. I'm assuming.
(h/t The AV Club)
Have a tip we should know? tips@mediaite.com