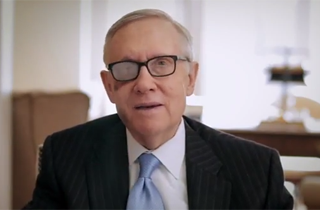 In a video uploaded to his YouTube channel minutes ago, Senate Minority Leader Harry Reid (D-NV) announced that he would retire from the Senate when his term ends in 2017.
"The joy I've gotten from serving the people of the State of Nevada is just as fulfilling as if I'd played center field at Yankee Stadium," he said, acknowledging that his left face was noticeably bruised as a result of an accident that got him hospitalized in Januaary.
"The job of Minority Leader in the United States Senate is just as important as being Majority Leader," he continued. "It gives you so much opportunity to do good things for this country. But this accident has caused us for the first time to have a little downtime. I have had time to ponder and to think: we've got to be more concerned about the country, the Senate, and the State of Nevada, then us. As a result of that, I'm not going to run for re-election."
Reid said that it would be "unfair" for him to "soak up" the resources that Nevada and the Democrat Party would need to maintain his seat and re-take the Senate. But he clarified that the decision had nothing to do with his being Minority Leader, his injury, or his ability to be re-elected.
He had a warning for his GOP counterpart, Majority Leader Mitch McConnell, however: "Don't be too elated. I'm gonna be here for 22 months, and you know what I'm going to be doing? The same thing I've done since I first came to the Senate."
Watch below:
[h/t CNN]
[Image via screenshot]
—
>> Follow Tina Nguyen (@Tina_Nguyen) on Twitter
Have a tip we should know? tips@mediaite.com