'He Didn't Do It For Terrorism' — Man Claiming To Be Orlando Attacker's Lover Comes Forward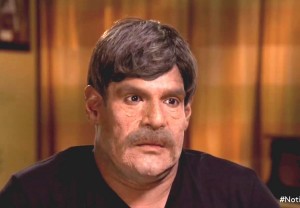 A man claiming to be the lover of the murderer in the Orlando terrorist attack gave an interview to Univision published Tuesday, in which he says that the killer was motivated by a personal vendetta to seek revenge against the gay Latino community.
"The thing that makes me want to tell the truth is that he didn't do it for terrorism. In my opinion he did it for revenge," a man who asked to be referred to as "Miguel" told Univision Noticias anchor Maria Elena Salinas. Miguel appeared in the interview wearing a disguise.
A report from Fox News on the news of Miguel's interview.

Miguel described the killer, Omar Mateen, as having been wracked with self-loathing about his sexual orientation, resentment against gay Latinos, and an alcohol problem. He said that he and Mateen met on the gay dating app Grindr the year before and described the two-month-long relationship as one of "friends with benefits." It ended in December, when Miguel moved away from Orlando. He said Mateen enjoyed being cuddled and described him as "affectionate" and "sweet."
Following an assignation with two Puerto Rican men, one of them revealed to Mateen after the fact that he was HIV positive and Mateen became incensed, Miguel said. "He was terrified that he was infected," Miguel said. "I asked him, 'Did you do a test?' Yes. He went to the pharmacy and did the test … it came out negative but it doesn't come out right away. It takes four, five months."
"'I'm going to make them pay for what they did to me,'" Miguel recalled Mateen telling him.
"He adored Latinos, gay Latinos, with brown skin – but he felt rejected. He felt used by them – there were moments in the Pulse nightclub that made him feel really bad. Guys used him. That really affected him," Miguel said. "I believe this crazy horrible thing he did – that was revenge."
The FBI confirmed to Univision that they had met with Miguel, and Miguel claimed that he had been interviewed by agents in-person three times.
[h/t Univision]
Have a tip we should know? tips@mediaite.com