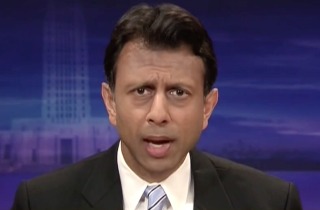 There just aren't enough rock operas about C-list conservative figures anymore.
A pair of upstarts intend to correct this scarcity by staging a rock opera based off Louisiana Governor Bobby Jindal's (R-LA) experience participating in an exorcism.
Jindal, a poli sci phenom who rocketed through the ranks of Louisiana government before emerging as a religious conservative pushing creationism on public schools, wrote about the exorcism incident 20 years ago in an essay that has resurfaced upon his 2016 presidential campaign.
RELATED: WaPo's Robinson: Jindal Will Have to 'Literally Set Hair on Fire' to Get GOP's Attention
Per the Times-Picayune, the experience was evocative enough to stir the Muses:
If you know anything about Welsh, this idea makes total sense: As the former campaign manager for porn star Stormy Daniels' tounge-in-cheek attempt to unseat U.S. Sen. David Vitter, Welsh has something of a reputation for injecting subversive humor into politics.

Chiari is a two-time Democratic candidate for the state House in Florida in the mid-2000s and now does national policy work for the Colorado chapter of the National Organization for the Reform of Marijuana Laws. Chiari is producing the rock opera through his company, King of Quality, which is currently producing a marijuana tourism travel documentary.
Chiari told the paper the play will be apolitical, and isn't intended to influence Jindal's long-shot chances in the 2016 GOP primary. "It's a love story more than anything. It's more about a story about a young man's inability to love," Chiari said, referring to a part of the story in which Jindal questions his capacity for emotion. "An ability to love or inability to love another person can play a role in how we look at the world."
A Kickstarter campaign to supplement what the two men intimate is adequate private funding has yet to receive any contributions. Perhaps the theater gods are on Jindal's side.
[h/t Times-Picayune]
[Image via screengrab]
——
>> Follow Evan McMurry (@evanmcmurry) on Twitter
Have a tip we should know? tips@mediaite.com