Here's Why Some Irate Duke Fans Blamed Team's Upset Loss on North Carolina's 'Bathroom Law'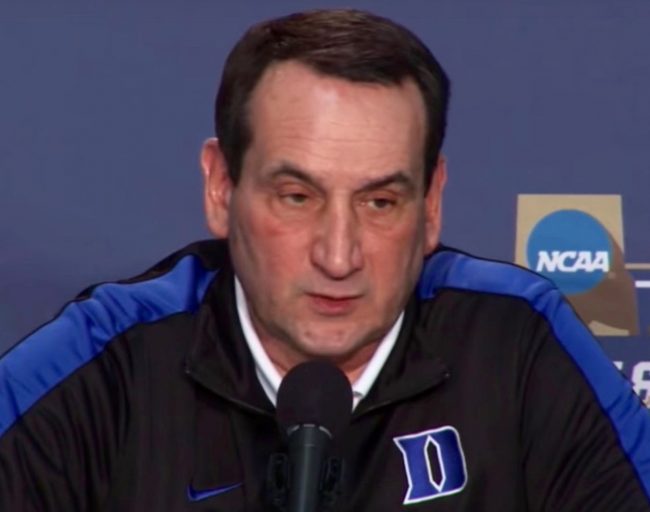 Did North Carolina's so-called "bathroom bill" help contribute to Duke's elimination from the NCAA Tournament?
After a relatively formful first two days, there were a few surprising upsets over the weekend in the big dance. But perhaps none were more stunning than Duke's loss to South Carolina on Sunday night. After winning the ACC Tournament last week, Duke became the favorites to win the National Championship. But South Carolina pulled off the Second Round shocker, defeating the Blue Devils 88-81.
The game was played in Greenville, SC, slightly more than an hour's drive away from South Carolina's campus in Columbia. And the reason it was played there was because the NCAA moved it from Greensboro, NC because of North Carolina's HB2 law (the "bathroom bill"), which requires transgender persons to use the bathroom corresponding to the gender on their birth certificate.
The law is viewed by many as being anti-LGBT, and the NCAA moved this weekend's games out of the state in order to show their opposition to the law.
Greensboro is appoximately 45 minutes away from Duke's campus, which means that Sunday night's contest would've basically been a home game for Duke had it remained in Greensboro. Instead, it became a road game.
Some irate Duke fans took to Twitter following the game last night to blame HB2, and North Carolina Governor Pat McCrory, for their team's defeat. Here's a sampling of the reaction:
Duke got to blame Pat McCrory for this loss…This game probably would have been in Greensboro but nope.

— Lil Bruh An Em (@NC_INTELLECT) March 20, 2017
Duke can thank Pat McCrory for this loss!! #BathroomBill #MarchMadness #TheResistance

— John Romero (@j9detox) March 20, 2017
Pat McCrory beat Duke.

— Anthony Bruton (@tonybruton) March 20, 2017
#Duke fans go from blaming refs, to blaming Pat McCrory in one night. Fantastic #MarchMadness

— Chip Camarata (@Chip_Camarata) March 20, 2017
Thanks, McCrory.

— Shane Ryan (@ShaneRyanHere) March 20, 2017
Seriously. Duke played an away game literally because of Pat McCrory. I couldn't hate that man any more. https://t.co/P2FCMG9XpY

— Lucas Tompkins (@Lucas_Tompkins) March 20, 2017
And I thought I hated the HB2 law in N. Carolina before – Duke shouldn't have had to play in SC. Should've been in Greensboro. #DukeNation

— TB (@TNBurrell) March 20, 2017
South Carolina outplayed us but we shouldnt have had to play them in the first place. Thanks selection committee and HB2.

— Duke Basketball (@bluedevils5x) March 20, 2017
So unfair Duke not allowed to play in Raleigh, Charlotte or Greensboro. Thank you NC legislature #HB2

— Steven Woolf (@swoolf001) March 20, 2017
Duke played in hostile Greenville, SC instead of favorable Greensboro, NC … because of HB2. Thanks dumbass Pat McCrory.

— Nick Hutson (@NickHut) March 20, 2017
I blame Duke losing on the state of North Carolina passing HB2

— Jacob Carpenter (@J_Carp12) March 20, 2017
[image via screengrab]
——
Follow Joe DePaolo (@joe_depaolo) on Twitter
Have a tip we should know? [email protected]
---
Joe DePaolo - Senior Editor