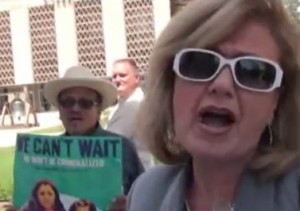 As news of Herman Cain's alleged affair with Ginger White pushes the metaphorical fork the rest of the way into Cain's presidential campaign, the embattled former frontrunner still has his defenders. State Sen. Lori Klein (R-AZ), Cain's Arizona state campaign chair, may have put the epitaph on Cain's political tombstone today when she told CBS News that, in politics, "we want a virgin to do a hooker's job."
Toward the end of a lengthy report on Cain's "reassessment" of whether he will remain in the race for the Republican presidential nomination, Klein displayed a profound misunderstanding of the type of predatory behavior that Cain is accused of:
Lori Klein, an Arizona state Senator and Cain's Arizona state chairman, told CBS News she stands by Cain.

She says she has known him for 12 years and he's "never been anything but a gentlemen – and I am not an unattractive woman."
Guilt or innocence aside, such a defense seems to be based on the premise that it is mere physical attraction that motivates men to sexually harass, and in Sharon Bialek's case, sexually assault women. In reality, Klein's comments help to define those motivations. Lori Klein is a powerful woman, a politician over whom Cain can exert little leverage. The women who accused Herman Cain, on the other hand, were two employees who depended on him for their continued livelihood, and a woman who was desperate for his help, allegedly alone in a car with him. The motivation for such acts is power, not lust.
Sen. Klein then delivered that priceless exclamation point to the Cain saga:
Klein suggested that if Cain is innocent he should sue White for libel and went on to attack the media for digging up the allegations. She also said that in politics, "we want a virgin to do a hooker's job."
It's a cliche´ to observe that comparing politicians to hookers is an insult to sex workers, but the suggestion that Cain's alleged actions fall short only of virginity is a new one, on a par with Newt Gingrich's implication that, despite his best efforts, he's not quite Jesus.
Sen. Klein is familiar with defending the indefensible, though. In April, she was confronted by an activist for telling protesters to "go back to Mexico," and rather than deny it, or apologize, she explains why she told them that. Priceless. Here's the clip, via YouTube:
Have a tip we should know? tips@mediaite.com