Hillary Clinton Awkwardly Shouts Her Way Through Speech: 'Why Aren't I 50 Points Ahead?!'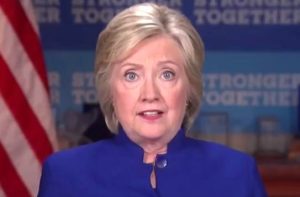 Hillary Clinton addressed the Laborers' International Union of North America Wednesday via teleconference, in a clip that surfaced online Thursday. But despite sitting in a dark room by herself, Clinton maintained the volume and tone she might use for a packed campaign rally. The result was… well, see for yourself.
"Now having said all this, why aren't I 50 points ahead, you might ask," she shouted in one particular animated moment. "Well, the choice for working families has never been clearer."
The social media reaction (especially from conservatives) was immediate and harsh. "Hillary Clinton forgets to use her inside voice during labor union speech," snarked The Week. The most common comparison was to Will Ferrell's Saturday Night Live character who suffered from Voice Immodulation Disorder.
Why is she yelling? https://t.co/h8yY4q4tFj

— Byron York (@ByronYork) September 22, 2016
Voice immodulation man from Saturday Night Live (https://t.co/jVEZjcadsl) juxtaposed with the Clinton video: https://t.co/fwsJ80SRwJ

— Andrew T. Walker (@andrewtwalk) September 22, 2016
Oh my God. She's trying to lose.https://t.co/4Y3OFphCan

— Tom Nichols (@RadioFreeTom) September 22, 2016
People say it's sexist to call Hillary Clinton "shrill," but this is the absolute textbook definition of the word. https://t.co/IK30H0QRVS

— Mark Hemingway (@Heminator) September 22, 2016
@latmadays WIll Ferrell's character was even from the State Dept.! https://t.co/xGGbSdJJp1 @ScottAdamsSays

— Mark Hemingway (@Heminator) September 22, 2016
evidently any criticism I make will be deemed sexist so let me just say oy my God what the hell is going on here https://t.co/Cu1AzZennT

— John Podhoretz (@jpodhoretz) September 22, 2016
There are two settings on the @HillaryClinton switch: Sleepwalk and I AM YELLING AT YOU NOW https://t.co/BCdstW8hk2

— Jim Treacher (@jtLOL) September 22, 2016
c:\systemboot\config
c:\access.emotionmain
c:\emotionmain.angerprotocol
c:\run.suppresscough
c:\run.angerprotocolhttps://t.co/u0CXiPZDm3

— Stephen Miller (@redsteeze) September 22, 2016
She deserves to lose. There's no way around it. https://t.co/gnVZIDuN4P

— Allahpundit (@allahpundit) September 22, 2016
I have literally never seen a performance this bad by any candidate anywhere, ever. If I'm Trump, I'm putting this on TV. https://t.co/lW8JkusvE2

— Jordan Gehrke (@jmgehrke) September 22, 2016
With performances like these, I can't understand at all why her staff are terrified to let her loose on the trail. https://t.co/QzjCD3LGDL

— Sean Davis (@seanmdav) September 22, 2016
Even U.S. Nebraska Senator Ben Sasse got in on the fun.
LOUD NOISES…https://t.co/iDk0xMfSHl

— Ben Sasse (@BenSasse) September 22, 2016
[Image via screengrab]
—
>>Follow Alex Griswold (@HashtagGriswold) on Twitter
Have a tip we should know? tips@mediaite.com