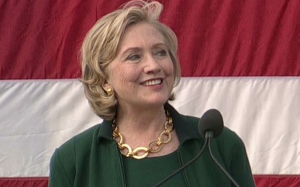 According to a Monday New York Times report, at least four of former Secretary of State Hillary Clinton's closest aides used private email addresses to communicate with her regarding official business, despite the likely presidential candidate's assertions that she emailed with government accounts in order to ensure they were properly preserved.
This was revealed after about 300 of Clinton's private emails were turned over to the House Select Committee on Benghazi. The Times was not allowed to read the emails, but four senior government officials "offered descriptions of some of the key messages, on the condition of anonymity because they did not want to jeopardize their access to secret information."
After an October 2012 House hearing about security issues in Benghazi, Clinton reportedly asked one of her advisers, "did we survive the day?" to which the adviser responded, "survive, yes." The 300 emails show Clinton and her staff following the fallout very closely. And according to officials, there is no evidence to suggest Clinton ordered Americans on the ground in Libya to "stand down," or that she was part of a cover-up.
On the subject of then-U.N. Ambassador Susan Rice's five Sunday show appearances, one of Clinton's advisers wrote to her: "She [Rice] did make clear our view that this started spontaneously then evolved." But in another email a couple weeks later, after the Obama Administration began calling it a "terrorist attack," the same adviser wrote: "You never said 'spontaneous' or characterized their motivations," seemingly to reassure Clinton that she never said the word "spontaneous" in public to describe the attack.
[Image via Shutterstock]
— —
>>Follow Andrew Desiderio (@forza_desiderio) on Twitter
Have a tip we should know? tips@mediaite.com