Hoboken Mayor Dawn Zimmer Alleges Possible Christie Retribution with Hurricane Sandy Relief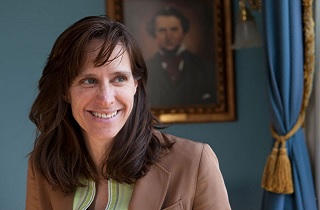 As the New Jersey legislature continues to investigate the Bridgegate political retribution scandal, and feds investigate Governor Chris Christie's (R-NJ use of Hurricane Sandy relief funds, Hoboken Mayor Dawn Zimmer (D-NJ) may have opened up another front in the universe's current War on Chris Christie™. In an interview with WNYC New York Public Radio, Zimmer wondered, in hindsight, if her hard-hit city was denied federal relief funds as revenge for her refusal to endorse Governor Christie's reelection bid.
In the days following Hurricane Sandy, Hoboken was one of those places that made it into every network's video package of hard-hit areas, as thousands of people remained trapped by flood waters for days. Since then, Governor Christie waged, and won, a hard-fought battle to secure federal relief for the state, but in light of the Bridgegate revelations, Hoboken Mayor Dawn Zimmer wonders if her city was shortchanged when it came time to dole out those dollars simply because she wished to remain neutral in the gubernatorial election. From WNYC:
"He was quite disappointed, but I wouldn't say that he was angry. He was disappointed and said he would keep asking," Zimmer said. "And I said, 'We can keep the conversation going but I don't expect to be changing my position.' And I didn't."

She had applied for hazard mitigation grants to protect Hoboken from flooding. During Sandy, 80 percent of the city was under water.

Zimmer says she asked the state for $100 million in grants. She got $300,000 — a fraction of 1 percent.

"It's a lot less and I was extremely disappointed," Zimmer said. "And at the time I was angry because I felt like the focus was on the shore."

Now, she says she can't help but wonder if her decision not to endorse Christie played a role.

"With 20/20 hindsight, in the context we're in right now, we can always look back and say, 'Okay, was it retribution?'" Zimmer said. "I think probably all mayors are reflecting right now and thinking about it, but I really hope that that's not the case."
Other mayors are also taking a look back at perceived slights from Christie, in light of the recent revelations, but Zimmer's speculation is much more potentially damaging than any of them, given the political benefits Christie has derived from his handling of the storm, and its aftermath.
Here's audio of Zimmer's interview, from WNYC:
Have a tip we should know? tips@mediaite.com