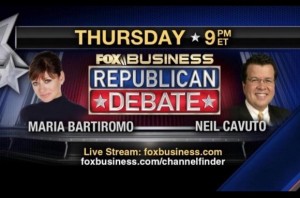 Fox Business hosts Neil Cavuto and Maria Bartiromo are set to moderate tonight's GOP Debate from the North Charleston Coliseum and Performing Arts Center in North Charleston, SC. The debate is an officially sanctioned event from the Republican National Committee; Trish Regan and Sandra Smith will moderate the undercard debate at 6 p.m. ET, and the primetime event will begin at 9 p.m. ET on Fox Business.
In addition to airing live on the Fox Business Network, the debate will be streaming live on www.foxbusiness.com.
Fox Business is partnering with cable and satellite providers to unbundle the channel for the debate. DIRECTV, Suddenlink, Mediacom, Wide Open West, and Cox Communications, along with many National Cable Television Cooperative (NCTC) member companies, will unbundle FBN, making the channel more widely available to their subscriber base ahead of the debates.
You can also use the Fox Business Channel Finder if you are unclear of where the network is located in your area. Users of the Fox News app will also have access to the live-stream. You can also listen to the debate live for free by using TuneIn Radio here.
The undercard candidates debating at 6 p.m. are:
Kentucky Senator Rand Paul
Carly Fiorina
Former Arkansas Governor Mike Huckabee
Former Pennsylvania Senator Rick Santorum
The mainstage candidates debating at 9 p.m. are:
Donald Trump
Texas Senator Ted Cruz
Florida Senator Marco Rubio
Dr. Ben Carson
New Jersey Governor Chris Christie
Former Florida Governor Jeb Bush
Ohio Governor John Kasich
Senator Rand Paul has reportedly informed Fox Business that he will not be participating in the undercard debate, citing unfair debate criteria and casting criticism onto the Republican National Committee.
A special post-debate edition of Cavuto: Coast to Coast will air immediately following the second debate at 11:00 p.m. EST.
Find out how to watch the debate live online
here
, and check back for Mediaite coverage throughout tonight's events.
[Photo via FBN screengrab]
Have a tip we should know? tips@mediaite.com