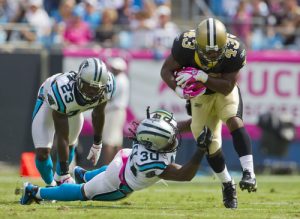 Thursday Night Football returns this week, with an NFC South match-up between the Carolina Panthers and New Orleans Saints.
Both teams enter off of extremely tough losses. The Panthers blew a 17-3 fourth quarter lead against the Chiefs on Sunday, going down 20-17. The loss dropped them to 3-6 on the season, leaving them in a highly precarious playoff position.
The Saints, meanwhile, lost an absolute heartbreaker to the Broncos in Week 10. With just 1:22 left, the Saints lined up to kick a go-ahead extra point with the game tied at 23. But the kick was blocked and Denver brought it back the other way for a two-point conversion to take a 25-23 lead. The defeat dropped New Orleans to 4-5 on the season.
The saving grace for both New Orleans and Carolina is that Atlanta hasn't run away in the NFC South, as they appeared on the verge of doing at one point. They've cooled off after a 4-1 start and are now 6-4 as they have a bye this week. A win would bring Carolina to within two games of the lead, and the Saints to within just one, and both teams get another crack at the Falcons in the final six games. So all is not lost just yet. But a defeat tonight figures to kill any postseason dreams these teams may be harboring.
Kickoff is at 8:25 p.m. ET. The game will be broadcast on both NBC, for the first time this season, as well as the NFL Network, which will stream the game live on its website. Twitter will also have a livestream, which can be found here. NBC's Al Michaels and Cris Collinsworth have the call.  Use the NFL Mobile app to watch on your phone or tablet. That app can be downloaded from the Apple App Store, the Google Play store, and the Windows Store. A cable subscription is required for the free stream.
[image via Action Sports Photography – Shutterstock.com]
Have a tip we should know? tips@mediaite.com