How to Watch the Giants-Redskins NFL Thanksgiving Day Game Live Stream Online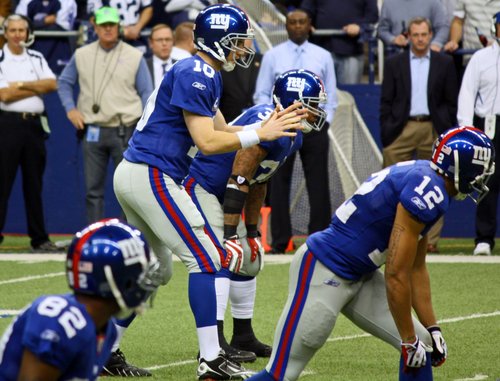 The finale of the Thanksgiving NFL tripleheader looked ever so appealing at the beginning of the year. Two great rivals, the New York Giants and the Washington Redskins, meeting in primetime at Fedex Field. But a game that held such promise in early September has, by late November, turned into a dud.
Still, it's football, and it's an excuse not to talk to the in-laws. So let's set this one up for you, shall we?
The Giants actually come in off a 12-9 win over Kansas City, which upped their record to 2-8. Compared to recent weeks, they played with spirit and effort on defense, something their fans undoubtedly appreciated. But two-time Super Bowl-winning quarterback Eli Manning turns 37 in a few weeks. And there's an unusually strong class of rookie quarterbacks prepared to enter the league — highlighted by USC's Sam Darnold, UCLA's Josh Rosen, and Wyoming's Josh Allen. So Big Blue backers might not want their club to win too many more, lest they surrender a prime draft position and potentially lose out on an opportunity to draft Manning's successor.
It's a last stand of sorts for Washington on Thursday night. They enter with a record of 4-6, and in a loaded NFC, that means they probably need to run the table to have a shot at the playoffs. The good news is, they have an extremely easy schedule the rest of the way. Pending the Cowboys' Thanksgiving result, Washington doesn't have a single game left against a team above .500. They'll get two shots at the woeful Giants, and will also play a reeling Denver squad. First things first, before they can start dreaming of a miracle December run — a Thanksgiving win over New York.
Coverage begins at 8:15 p.m. on NBC. Al Michaels and Cris Collinsworth have the call. The action will be streamed live on the NBC Sports website, and can also be streamed on mobile devices via the NBC Sports app. The app can be downloaded via Apple's iTunes Store and the Google Play Store. A cable subscription is required for the free stream.
[image via Shutterstock.com]
Have a tip we should know? tips@mediaite.com
Joe DePaolo - Senior Editor