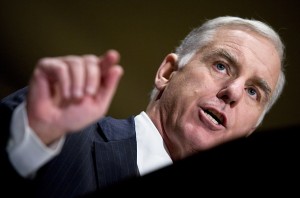 On a day when many Tea Party-influenced Republican members of Congress took the oath of office in Washington, former Democratic National Committee Chairman Howard Dean is storming back onto the scene, first declaring Tea Party leadership to be fraudulent and now revealing his true thoughts about the whole Tea Party movement at a Christian Science Monitor breakfast. Although he doesn't think Tea Party members are racist, he does think "it's the last gasp of the 55-year-old generation . . . a group of older folks who've seen their lives change dramatically."
Dean continued:
Every morning when they see the president they are reminded that things are totally different than they were when they were born and I think that has a lot to do with it. . . Economic uncertainty fuels this but this is the last gasp of the generation that has trouble with diversity. The tea party is almost entirely over 55 and white, and the country has changed dramatically as a result of what happened in 2008 and it's not going back. Every day that goes on, the demographic change continues, and that's what a lot of this is about.
Given that Tea Party favorites like Senator Rand Paul, Senator Marco Rubio and Sarah Palin are each under 50 years old, and that many would argue the Tea Party has many constituents well under Dean's age threshold, Dean's conclusion seems questionable. However, Dean is never one to shy away from giving his opinion, also revealing his prediction that former Massachusetts Governor Mitt Romney is the strongest Republican challenger to President Obama in 2012.
Watch the clip from the Christian Science Monitor below:

Have a tip we should know? tips@mediaite.com