Dead Birds, Fish And Bears, Oh My: And Now A Whole Bunch Of Crabs Are Dying, Too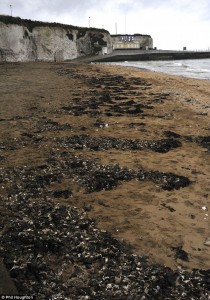 The recent slew of dead animals falling from skies and washing up on various coastlines (a troubling phenomenon which we've heard called, among other things, "Armageddon," "The Apocalypse," "A Viral Campaign," "The End Times" and, our personal favorite, "The Aflockalypse") continues today with the discovery of some 40,000 dead crabs washing up on a British shore.
As with the whole mess of dead fish found in the Chesapeake Bay earlier, experts are pointing to record low temperatures. The Velvet swimming crabs – or devil crabs, as they're also known – are apparently dying thanks to the coldest December Britain has felt in 120 years. The picture at left, from The Guardian, shows thousands of dead crabs dotting the beach.
And here's something that would get U.S. pundits talking over one another ("How can it be TOO COLD if it's called GLOBAL WARMING?" and "Don't cry over dead fish if you eat pork!") against pictures of adorable, but dead, baby animals:
Coastal warden Tony Sykes said: 'We suspect that climate change and warmer weather has lured the crabs towards the shoreline.'
PBSNewsHour is looking into this whole, fascinating, disturbing dead animal trend, speaking with a wildlife disease specialist U.S. Geological Survey who shared that there have been "at least 16 cases in the last 20 years of large numbers of blackbirds dying in contained areas." Probable causes so far have included birds flying into one another at very high speeds after being frightened and confused by fireworks.
Fish kills are also, apparently, more common than people think and are often caused by human beings, what with our tendency to consume and dump hazardous materials and such.
That, or this is the end of the entire world as we know it.
Have a tip we should know? tips@mediaite.com