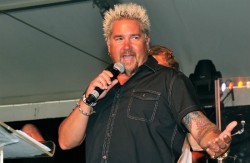 Guy Fieri has made an entire career out of traveling the country to eat burgers, meat-lover's pizzas and barbecue, but the guy loves his vegetables too- cooking them and eating them. Someday, he says, he will "write a vegetarian book." He told People at the Carnival Summertime Beer-B-Que in New York City last week that even though his family laughs when he says it, it's a serious goal of his. He told the mag, "My cousin, who's a big vegetarian, tells me flat out, 'You're my favorite vegetarian chef.'"
The reality star and restaurateur says he learned to love the vegetarian lifestyle when he was caring for his sister Morgan Fieri while she battled cancer. He told People,"at first, people think about vegetarian food like, 'Here's some veggies. Here's some pasta.' But there's so much more you can do in the vegetarian and vegan world."
There's indication that his book would have an audience, too. Lea Michele, who is famously vegetarian and a health nut is a big fan of Fieri's. When they met at Coachella, she said it was one of the "greatest moments of [her] life." The book can't come soon enough. Plant-based diets have become more popular than ever- even Mario Batali participates in Meatless Monday, and companies like Beyond Burger are creating veggie burgers that bleed.
Despite Fieri's meat-loving TV persona, he says, "I cook so much vegetarian and vegan food, it's crazy!"
Follow Dana Eisenberg on Twitter.
This is an opinion piece. The views expressed in this article are those of just the author.