I Moustache You: Did John Bolton's Facial Hair Doom Bid For Secretary of State?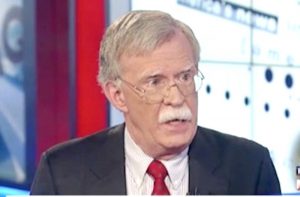 I moustache you this question: should someone's physical appearance be a reason not to get a job offer?
If you're President-elect Donald Trump and you're hand-selecting your cabinet and team of advisors, the answer may very well be yes.
A stunning new Washington Post report indicates that Trump is driven by a particular aesthetic, holding what they call a "government casting call."
"Donald Trump believes that those who aspire to the most visible spots in his administration should not just be able to do the job, but also look the part," writes Philip Rucker and Karen Tumulty.
A longtime pal of Trump's Chris Ruddy was quoted in the piece as saying, "He likes people who present themselves very well, and he's very impressed when somebody has a background of being good on television because he thinks it's a very important medium for public policy."
So did this doom the chances for former UN ambassador John Bolton and his bushy mustache to become the next Secretary of State? Well, as a matter of fact…
Several of Trump's associates said they thought that John R. Bolton's brush-like mustache was one of the factors that handicapped the bombastic former United Nations ambassador in the sweepstakes for secretary of state.

"Donald was not going to like that mustache," said one associate, who spoke on the condition of anonymity to speak frankly. "I can't think of anyone that's really close to Donald that has a beard that he likes."
WaPo reports that the reason the President-elect was particularly drawn to Secretary of State candidates like Rex Tillerson and Mitt Romney was for how "they command a room when they walk in" (Tillerson got the gig.)
One of the most substantial roles left to fill is that of White House Press Secretary, one of the most visible roles in the administration. While RNC Chief strategist Sean Spicer is the current favorite for the role, reports have also indicated that Monica Crowley, Laura Ingraham, and Kimberly Guilfoyle — all Fox News hosts and contributors — are in strong consideration as well.
Have a tip we should know? tips@mediaite.com