Ian McKellen Sides with #OscarsSoWhite Outrage: Hollywood Disregards Gay Actors Too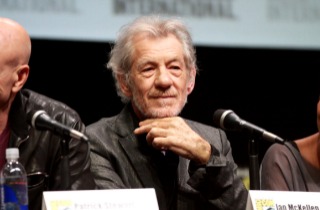 As the controversy continues over the white-washed pool of actors nominated this year for the Oscar awards, gay British actor Ian McKellen has stated that homophobia is just as prominent in the film industry as racism.
McKellen, perhaps most prominently known for his work in the Lord of the Rings and X-Men series, spoke with Sky News today about why he felt sympathetic to the minority actors who felt like they were being overlooked by the Academy. While McKellen said that the concerns had merit, he also stated that black people were not alone in feeling disenfranchised by Hollywood.
"It's not only black people who've been disregarded by the film industry, it used to be women, it's certainly gay people to this day," McKellen said. "And these are all legitimate complaints and the Oscars are the focus of those complaints of course."
In a separate interview with The Guardian, McKellen also said that actors have won Oscars for playing gay characters in the past, and yet despite being nominated himself, no openly homosexual actor has ever won.
"No openly gay man has ever won the Oscar; I wonder if that is prejudice or chance," McKellen said. ""My speech has been in two jackets … 'I'm proud to be the first openly gay man to win the Oscar.' I've had to put it back in my pocket twice."
The Academy of of Motion Picture Arts and Sciences has responded to the outrage by promising to make their membership more diverse for future nominations. Even so, the reaction to #OscarsSoWhite continues to split actors and film personalities down the middle.
[Image via wikimedia]
— —
>> Follow Ken Meyer (@KenMeyer91) on Twitter
Have a tip we should know? tips@mediaite.com