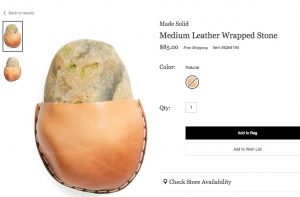 If you've ever looked at a rock on the ground and been like, "I love this rock, I just wish it weren't free," Nordstrom is here for you. They're currently selling a rock wrapped in a leather pouch on their website for $85. If you're thinking to yourself, "Wow! Sounds…useless," think again. According to the rock's description on the website, this rock can be used for lots of different things: "A paperweight? A conversation piece? A work of art? It's up to you, but this smooth Los Angeles-area stone—wrapped in rich, vegetable-tanned American leather secured by sturdy contrast whipstitching—is sure to draw attention wherever it rests."
It sure is.
The reviews of the product are pretty much what you would expect. One user writes, "For months I have been searching for the perfect addition to my home. Having only average knick knacks that positively fail as conversation starters, my husband and I have often sat in silence with a sheer lack of things to say. In desperation, I looked to Nordstrom for the answer. The leather wrapped stone was it"
One reviewer says, "I've never owned a rock that could function better [than] this product. Does everything a rock is supposed to do even with this leather covering. I mean everything!"
There is also already a @NordstromRock Twitter parody account, because of course there is.
So if you're looking for a Secret Santa gift that will make your friend say, "WTF," we're pretty sure we know where you should do your holiday shopping. If you don't want to spend quite that much, there's a smaller version for $65.
[image via Nordstrom.com]
Have a tip we should know? tips@mediaite.com