FLASHBACK to When Trump Revealed How He'll Use Twitter as President: 'I'm Going to be Very Restrained'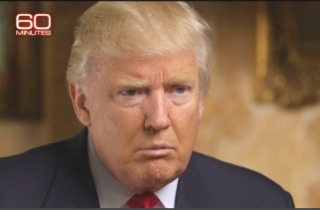 In his upcoming interview with 60 Minutes, President-Elect Donald Trump said that he might not use Twitter as much in the future as he did when he was running his campaign.
Editor's Note: we found this clip to newly relevant given the media discussion of Presidential tweets over the past few day, and we are reposting as a result.
Throughout the last year and a half, Trump has drawn fire for some of the more pointed and controversial things he said on social media. During their conversation together, Lesley Stahl asked him about whether he'd still be active on Twitter and using it in the same way in the future.
Trump praised the site as "a modern form of communication" that helps him "get the word out" to his large online following directly. Trump also waxed on about how the site has been great for him whenever he needed to bash media outlets and news stories that he doesn't care for.
When Stahl pressed on and asked if Trump would keep doing that as president, Trump said "I'm gonna do very restrained, if I use it at all. I'm going to be very restrained." The mogul also credited his large social media following for his victory, particularly in states where his opposition was outspending him in their get-out-the-vote efforts.
Trump's most recent Twitter controversy occurred when he wrote off those dissenting his presidential win by saying they were professional protesters "incited by the media." Trump walked this back somewhat when he sent out another tweet later where he applauded the "passion" of the people expressing themselves.
In the same interview, Trump talked about the call he got from Hillary Clinton when she conceded to him on Election Night.
The full CBS interview will air on Sunday at 7 p.m. ET:
[Image via screengrab]
— —
>> Follow Ken Meyer (@KenMeyer91) on Twitter
Have a tip we should know? tips@mediaite.com