In Anticipation of Town Hall Disruption, Rep. Prints Parts of His Speech on Large Signs He Will Hold Up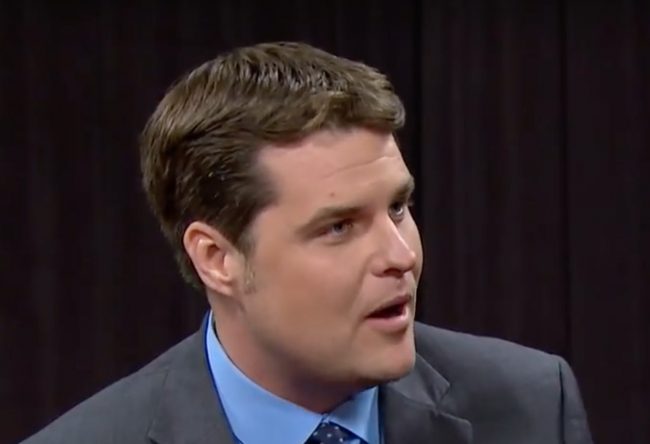 As you're aware of by now, town halls across the country have been getting very contentious as angry voters confront their representatives about, among other things, the repeal of Obamacare.
Donald Trump and Mike Pence have both waved this off as liberal organizing — which it is and has taken place on all sides of politics for as long as the American democratic system has existed — but other elected officials recognize the authenticity. Others have been strategizing to make sure their town halls don't go awry.
According to CNN, Florida's Rep. Matt Gaetz does believe that anyone disrupting his town hall would be a "professional liberal protester," but he's still willing, unlike others, to face them and have his message heard. Or seen. In case of interruptions, he has part of his speech printed on large cards so that he can just hold them up, sort of like Kate McKinnon on Saturday Night Live that guy in Love Actually.
His big town hall is tonight and he's calling it "Open Gaetz Day."
He said this:
I think part of the job in public service is not just living in your own echo chamber where you talk to your own supporters about their views. But where you give people the opportunity, who disagree with you, to step forward, yell at ya, wag their finger in your face, and the job of the public servant is to take it. And that's exactly what we're going to do.
Other than that, his plan is to be open — even to having water thrown on him if it comes to that since he "won't melt" — and make sure the crowd is fed.
[image: screengrab]
Have a tip we should know? tips@mediaite.com