Iowa GOPers Push Bill To Make Divorce More Difficult, Question If It Leads Girls To Be 'Promiscuous'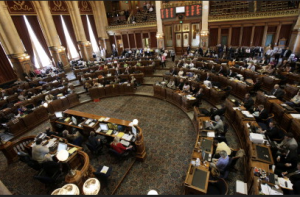 Seven Republican members of the Iowa House are hoping to make divorce more difficult by pushing a bill that would prohibit "no-fault" divorces for parents of minors. The move, they said, stems from concern about the negative effect of divorce on children.
Rep. Ted Gassman, according to Radio Iowa, argued it's " time to look out for the children instead of constantly worrying about the adults." He went on to note that the issue is "near and dear" to him, alluding to his daughter and son-in-law who recently divorced.
"There's a 16-year-old girl in this whole mix now," Gassman said, referring to his granddaughter. "Guess what? What are the possibilities of her being more promiscuous? What are the possibilities of all these other things surrounding her life that a 16-year-old girl, with hormones raging, can get herself into?"
"This basically is an attempt on my part to keep fathers in the home," he also said. "I sincerely believe that the family is the foundation of this nation and this nation will go the direction of our families. If our families break up, so will this nation."
Opponents of the bill argued that not divorcing in some situations can actually have an adverse effect:
Representative Marti Anderson, a Democrat from Des Moines who opposes the bill, said the tension in her childhood home lasted eight years, until her parents divorced back when fault had to be proven.

"The stay-together time was very, very damaging to my family," said Anderson — the oldest of four children, "and although we're all adults now, I'm not sure any of us have ever really gotten past that."
A three-member House subcommittee debated the bill and gave it initial approval on Monday. Currently, all 50 states allow no-fault divorce (which allows couples to split without assigning blame for the cause).
Have a tip we should know? tips@mediaite.com