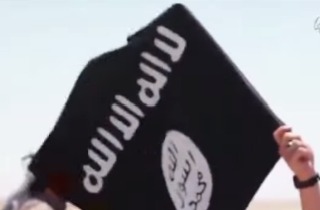 According to the Associated Press, Iraqi Prime Minister Haider al-Abadi says his country's intelligence services have uncovered a plot by ISIS fighters to bomb subways in the U.S. and in France.
Al-Abadi said the attacks are imminent and have not yet been thwarted. He reportedly gave the remarks to journalists in a side meeting at the United Nations General Assembly.
Earlier this week, the U.S. began bombing ISIS in Syria as part of a coalition effort.
UPDATE — 12:15 p.m. ET:
Sky News is now reporting that the U.S. has "no evidence" to back up al-Abadi's claims.
Update – U.S. government source says America has no evidence to back-up Iraqi PM's claim of Islamic State plot to attack subways in America

— Sky News Newsdesk (@SkyNewsBreak) September 25, 2014
UPDATE — 12:40 p.m. ET:
The AP has amended its original story, and is now reporting that al-Abadi said he was "not sure" if the attacks were imminent. He also said the ISIS fighters are foreigners who are using Iraq simply as a location to plan the attacks.
"Today, while I'm here I'm receiving accurate reports from Baghdad that there were arrests of a few elements and there were networks from inside Iraq to have attacks … on metros of Paris and U.S. They are not Iraqis. Some of them are French, some of them are Americans. But they are in Iraq."
— —
>>Follow Andrew Desiderio (@forza_desiderio) on Twitter
[Note: Mediaite intern Andrew Desiderio is a student at The George Washington University.]
Have a tip we should know? tips@mediaite.com