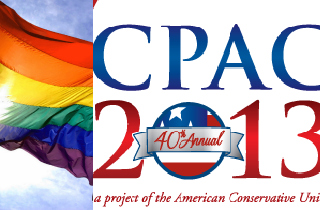 On Thursday morning, The Washington Post's Jennifer Rubin published a post entitled: "Pro-gay rights panel invades CPAC."
But does this mean CPAC is officially hosting a gay rights panel? No.
Instead, one of CPAC's sponsors, the Competitive Enterprise Institute (CEI), a libertarian think tank, is using its conference room and 2-hour time slot, allotted to it as a sponsor, in order to host the panel. Sources say CEI disagreed with CPAC's ban on GOProud but, rather than pull out as a sponsor and forego participating altogether, it found a clever way to take part while also ensuring gay rights were discussed at the event.
The panel, entitled "A Rainbow on the Right: Growing the Coalition, Bringing Tolerance Out of The Closet," moderated by Fred L. Smith, Jr. (CEI's chief) and Rubin, will feature National Review's Jonah Goldberg, consultant Liz Mair, commentator and gay rights activist Margaret Hoover, and yes, GOProud's own Jimmy LaSalvia. The panel will take place on CPAC's first day, Thursday, at 6 pm in the Chesapeake A-B conference room.
As Rubin reports: "CEI did not disguise its intentions from the CPAC organizers, who have been roundly criticized for excluding prominent conservatives such as Govs. Bob McDonnell and Chris Christie, as well as GOProud. McNicoll [Brian McNicoll, CEI spokesperson] says, 'We turned in the name (of the panel) and chose it so there could be no doubt what we were trying to do.' He says that there was 'complete radio silence,' and the session was put on the schedule."
I reached out to GOProud's Jimmy LaSalvia this afternoon for comment, who had this to say:
"I am so grateful to our friends at CEI for putting together this important panel. I am honored to be asked to participate in the discussion."
To be sure, CPAC's much-criticized ban on GOProud's sponsorship or formal participation remains in effect, and the panel – despite taking place during CPAC, in the hotel, and listed on the CPAC Schedule of Events, is not an official CPAC event (as CPAC's own Schedule of Events fine-print cautions, only events listed 'in bold' are official CPAC events).
Nonetheless, the panel, thanks to CEI, means gay rights, gay issues, and the topic of gay inclusion in the conservative movement will indeed have a place – albeit unofficially and indirectly – at this year's CPAC.
So, to the many CPAC attendees frustrated with GOProud's exclusion, you know where to be at 6 pm next Thursday.
— —
Have a tip we should know? tips@mediaite.com