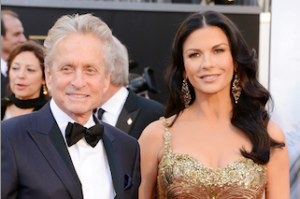 In an interview with The Guardian over the weekend, actor Michael Douglas got very specific about how he believes he contracted throat cancer. When asked if he thinks his past of heavy drinking and smoking led to his diagnosis, Douglas said, "No. Because, without wanting to get too specific, this particular cancer is caused by HPV [human papillomavirus], which actually comes about from cunnilingus."
The comment was seen by many in the press as a surprisingly candid admission from Douglas, who is married to actress Catherine Zeta-Jones. He went on to explain, "I mean, I did worry if the stress caused by my son's incarceration didn't help trigger it. But yeah, it's a sexually transmitted disease that causes cancer. And if you have it, cunnilingus is also the best cure for it. That's right. It giveth and it taketh." But could the actor's assessment really be right?
Following the interview, The Guardian spoke to London surgeon Mahesh Kumar, who confirmed that certain types of the HPV virus can lead to oral cancer. "It has been established beyond reasonable doubt that the HPV type 16 is the causative agent in oropharyngeal cancer," said Kumar. The doctor said it was unlikely that HPV was the sole cause for Douglas' cancer and did not buy his suggestion that cunnilingus could also be a cure. "Maybe he thinks that more exposure to the virus will boost his immune system. But medically, that just doesn't make sense."
HPV became big news in this country in 2011 when the vaccine, which the CDC advises giving to young girls, became a controversial topic in the Republican primary debates. Rep. Michele Bachmann (R-MN) famously asserted that the vaccine causes "mental retardation" after a mother came up to her after a debate and suggested her daughter had become mentally disabled after taking the vaccine.
—
>> Follow Matt Wilstein (@TheMattWilstein) on Twitter
Have a tip we should know? tips@mediaite.com