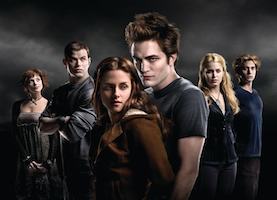 First: Twilight New Moon, Robert Pattinson, Bella, Twilight pics, are Robert Pattinson and Kristen Stewart engaged, Twilight slash fanfic. Muggles?
Now that I've gotten that off my chest, have you noticed that in the wake of Twilight: New Moon's premiere, there are an awful lot of Twilight-related articles gumming up the Internet lately? Is it possible that accomplished journalists are writing about Twilight not because they are deeply interested in it, but because they are trying to get traffic to their websites?
Bonnie Fuller's HollywoodLife.com launched today. According to the press release, "HollywoodLife.com's digital conversationality also provides a richer take on lifestyle and beauty as always-updated, style-sensible women across the country will be able to respond, giving approval of the latest trends in beauty, weighing in on fashion, or revealing their own secrets of shopping." Yet the lead story is a wallpaper-sized graphic of Taylor Lautner, Kristen Stewart, and Robert Pattinson proclaiming "New Moon Mania!" below which is a link that says "Everything New Moon, All The Time!" and blanket coverage of the premiere.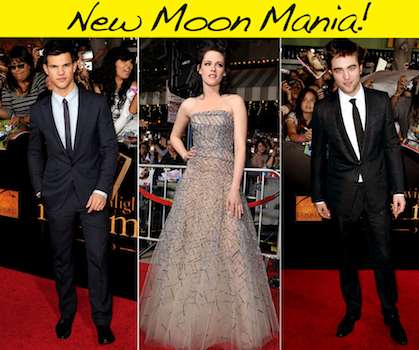 Why is an accomplished journalist like Bonnie Fuller, who was born in 1956, so into the tweenish vampire saga? A hypothesis: Twilight has a rabid fan base who tend to travel in packs, and getting some of them via Google search and cross-promotion with her parent site Mail.com could not only give her strong first-day traffic, but could grab for the longer term some of that coveted eighteen-to-thirty-five female demo that her site is after.
And it's not just HollywoodLife: Fuller's Mail.com colleague Nikki Finke, hailed by this very site as "a one-woman trade publication whose tenacity has landed her scoop after scoop," routinely posts about Twilight, though she often prefaces with a wry aside like "Yes, this is another in my shameless plugs for Twilight fan traffic."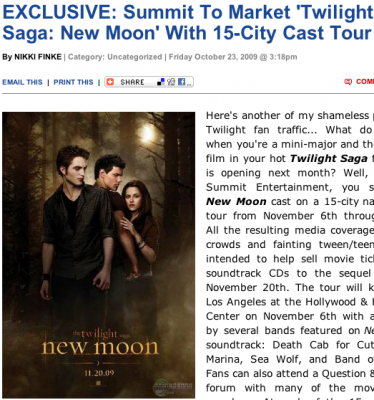 This is to say nothing of Entertainment Weekly, whose PopWatch blog sees fit to Twilight it up, or Cinematical, with their "Fan Made: Raunchy, Vampiric 'Twilight' Underoos:" (image via Twitarded)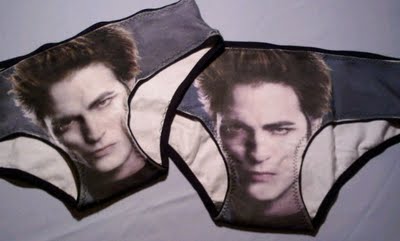 Or Mediaite, which took a break from their probing, insightful media coverage to note that Geraldo Rivera looks like Charlie Swan.
Twilight bait works, or thinks it works, because it's something for very little. It's like blowing a dog whistle: the people who care about it come flocking when they hear it, and the people who don't will go happily about their ways.
Only instead of not hearing it, they hear a faint but shrill sound, and are mildly irritated. And if you, the publication, spend too much time blowing on the dog whistle that is Twilight, then you are neglecting many fine woodwind instruments that you could be playing otherwise, such as the piccolo. Even though you thought that you were getting something for nothing (dogs) by playing on the dog whistle, in reality, the dog whistle was playing you.
In this extended metaphor, the "piccolo" equates to outstanding investigative journalism.
In all seriousness, any site that covers popular culture or Hollywood should be talking about Twilight, because like it or not, it's one of the great pop cultural happenings of our time. The bigger issue is when sites overcover it to the exclusion of everything else, or stray too far and too frequently off their actual beats. A website is not a magazine, and part of the beauty of the web is that it allows readers and writers to connect who might not encounter each other otherwise. But when every site chases the same few stories, they all take on a watery, same-y flavor that can't be too pleasing to the loyal readers who are supposed to be their audience.
Have a tip we should know? tips@mediaite.com