This is some grade-A trolling. The Israeli Embassy tweeted a link to a parody LinkedIn page for newly-elected Iranian President Hassan Rouhani, apparently timed to coincide with Rouhani's appearance at the U.N. General Assembly in New York: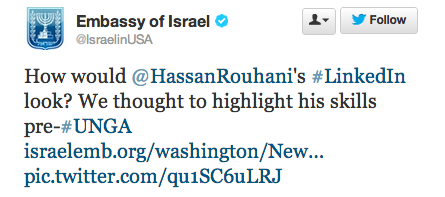 The phony profile lists Rouhani's skills as "deceptive trade practices," "weapons of mass destruction," and "nuclear proliferation." In a summary, Rouhani boasts of his role as a Trojan horse for the extremist government last led by Mahmoud Ahmadinejad. "Through a series of statements, tweets, op-eds, and smiles I have re-branded the human rights suppressing, Ayatollah-led regime as moderate and a source of hope among the international community," writes fake-Rouhani. "All the while, I have ensured our regime maintain its role as the leading sponsor of worldwide terror activities."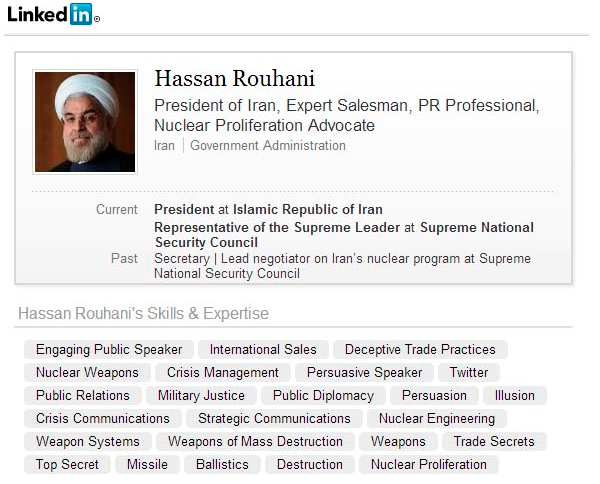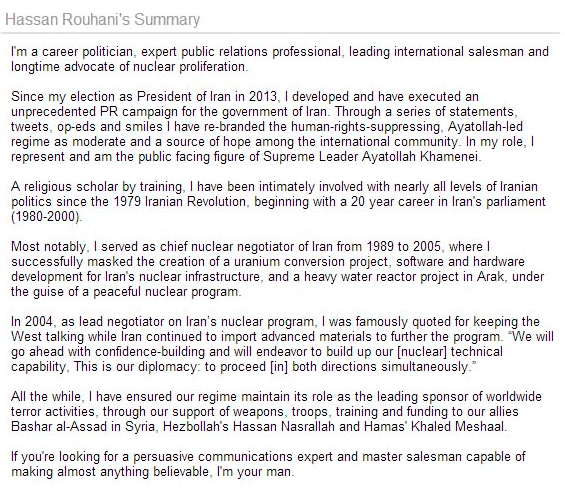 Rouhani is considered by many to be a welcome moderate presence in Iran, reawakening the potential for a thaw in discussions over the country's nuclear program—a hope reiterated today by President Barack Obama in a speech at the U.N.
Rouhani himself has sent mixed signals about just how moderate he is, tweeting Rosh Hashanah greetings and, some suspect, momentarily turning on Iran's access to social media—while also denying the existence of the Holocaust, one of Ahmadinejad more provocative sentiments, in an interview with NBC's Ann Curry last week.
Clearly Israel ain't swallowing the moderate act. "If you're looking for a persuasive communications expert and master salesman capable of making almost anything believable," goes fake-Rouhani's sign off, "I'm your man."
[h/t Daily Beast]
[Image via screengrab]
——
>> Follow Evan McMurry (@evanmcmurry) on Twitter
Have a tip we should know? tips@mediaite.com