It Took No Time at All For Hillary Clinton to Fundraise Off of Chris Murphy's Filibuster Heroics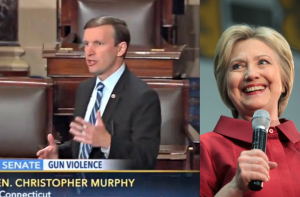 Senator Chris Murphy of Connecticut was universally cheered by liberals yesterday after completing a marathon session of filibustering on the floor. After 14 hours and 50 minutes, Senator Murphy finally uttered the words, "With deep gratitude to all of those who have endured this very, very late night, I yield the floor."
Murphy's efforts were front-and-center on Wednesday after he began his filibuster in the name of gun control, even earning live stream status on many of the cable news outlets in response. Murphy was elected — but had not even yet taken office — when a gunman opened fire on Sandy Hook Elementary School in Newtown, CT on December 14, 2012, killing 20 children and 6 adults. For him the issue of gun control has been central to his brief Senatorial career. "The gun lobby may be powerful, but I will not rest until we pass comprehensive legislation to keep guns away from criminals," reads his website.
And it took only hours for the likely Democratic nominee to capitalize on Murphy's efforts, sending a fundraising email out on Thursday in the name of Hillary for America.
The generic "info@hillaryclinton.com" email address is always the sender on Hillary Clinton fundraising emails (I signed up for all of these lists for every candidate back in September in both parties), though they can easily swap out a different name. Usually, I get emails from "Hillary Clinton" herself that begin with the generic salutation "Friend –," though Bill Clinton and Chelsea Clinton have also been known to make appearances in my inbox asking for money.
But Thursday's round of fundraising came directly from "Senator Chris Murphy." Unsurprisingly, Murphy endorsed Clinton earlier in the Spring, and his name was even floated — if only in Nutmeg State circles — as a possible VP pick for the former Secretary of State.
The email reads similarly in tone to the dozens of other Clinton fundraising emails I've been bombarded with this last year, with the notable exception of highlighting Murphy's connection to Sandy Hook and his fight for stricter gun regulations. It reads (note the usual "Friend –", at least Donald Trump calls me "J.D." in his emails):
Friend —

I was the Congressman from Newtown, Connecticut when tragedy struck Sandy Hook Elementary School on December 14th, 2012. As long as I live, I'll never forget the scene at the firehouse when twenty-six families were told they would not be reunited with their children and loved ones.

For years, Congress has failed those families and the victims of gun violence all across the country.

That is why yesterday, starting at 11:21 a.m., I decided to stand on the Senate floor and talk for as long as I could about the need to prevent gun violence. And with the help of more than 30 of my colleagues, we demanded immediate action to make our communities safer from gun violence:

I can tell you that as the hours progressed, my colleagues heard your calls for change grow louder and louder. And after almost fifteen hours of filibustering, I was proud to be able to announce that Republicans had agreed to our demand for a vote on legislation that would keep guns out of the hands of suspected terrorists and require comprehensive background checks for gun purchases.

That is just one step, and our fight is far from over. But there are millions of voices out there who believe like we do that now is the time for action. And if we keep making ourselves heard, we will save lives.

Add your voice to Hillary Clinton's and mine to demand Congress take immediate action to make our communities safer from gun violence.

Whether it's shootings fueled by racism, rage against women, homophobia, extremist ideologies, or severe mental illness, I shudder to think what it says about us as a nation if we don't even attempt to make a good faith effort to end this carnage. We need to re-think whether or not that's something we are willing to allow. And like President Obama said on Sunday, doing nothing is a choice, too.

So I am going to stand with Hillary Clinton and continue this fight until Congress has done everything it can to make our communities safer from gun violence.

Thank you for adding your voice to ours.

Chris Murphy
U.S. Senator, Connecticut
Links in the email redirect of course to money submission pages. As always, the email signs off with, "Paid for by Hillary for America, a grassroots campaign of 1.3 million donors committed to electing Hillary Clinton (and keeping Donald Trump out of the White House)." This distinction — the one about grassroots and the quantity of donors — was a switch in rhetoric I noticed as the Bernie Sanders campaign became a legitimate force in the primaries.
It is neither an unusual nor a surprising move to see Clinton hop on the coattails of Chris Murphy's filibuster so quickly for the benefits of her campaign. In the past, Murphy went as far as to rebuke Sanders for not identifying culpability with gun manufacturers, once tweeting about Sanders' rhetoric, "this is really bad. Dems can't nominate a candidate who supports gun manufacturer immunity." Murphy wrote in February, "Clinton made combating gun violence a centerpiece of her platform… she courageously uses her campaign to bring the fight directly to the gun lobby." While it may not be a surprise to see the money efforts begin so soon or be tied so closely to this week's filibuster — the ninth longest in US Senate history — it does serve as a stark reminder that even the most dauntless, championed,  and visible political actions are never far removed from bringing in more cash.
—
J.D. Durkin (@jiveDurkey) is an editorial producer and columnist at Mediaite.
[images via screengrab & wikipedia commons]
This is an opinion piece. The views expressed in this article are those of just the author.