'It's All Rigged!': Twitter Explodes With Election Jokes After La La Land/Moonlight Oscars Mix-Up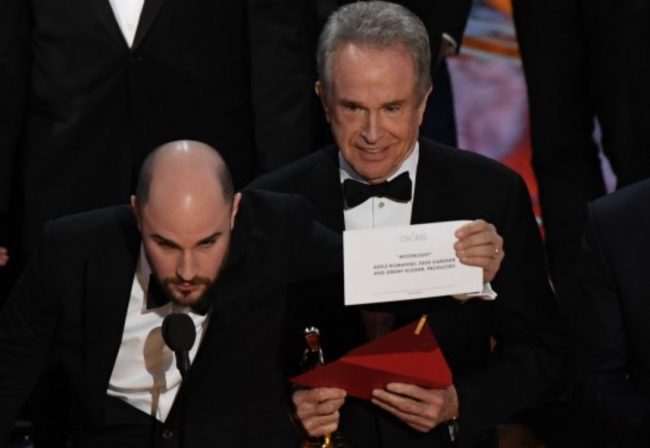 Twitter is full of hot takes on Monday morning as everyone's reacting to the unbelievable blunder that took place at the end of the Oscars.
The show was nearing its conclusion as Warren Beatty announced that La La Land was the winner for this year's Best Picture Award. As the film's creators and actors were giving thanks to everybody on stage, it was announced that a mistake occurred with the "Best Picture" envelop, and the winner was actually Moonlight.
The resulting confusion over the mishap led to an instant explosion of activity across the Internet, and a wide variety of jokes were made about the slip-up.
Some tweeters went with their own jests:
Any chance Beyoncé really won instead of Adele? #BestPicture #Oscars #AcademyAwards pic.twitter.com/zMP1awUpTk

— Shannon Watts (@shannonrwatts) February 27, 2017
YOOOOO THE SEASON FINALE OF BLACK HISTORY MONTH IS SO LIT

— Tyler R. Tynes (@TylerRickyTynes) February 27, 2017
Warren Beatty pulled off the coveted and rarely executed reverse Kanye

— Mazel Tov Cocktail (@AdamSerwer) February 27, 2017
IF ANYONE FROM THE IN MEMORIUM IS STILL ALIVE PLEASE LET US KNOW

— billy eichner (@billyeichner) February 27, 2017
Other people compared this to Steve Harvey's infamous 2015 flub when he crowned the wrong woman as the winner of Miss Universe:
Have your people call our people – we know what to do. #Oscars #MissUniverse

— Miss Universe (@MissUniverse) February 27, 2017
Steve Harvey sitting at the crib like…
????????? #Oscars pic.twitter.com/FFqgDwgX1i

— Carl Davis (@Carldavis94) February 27, 2017
Steve Harvey right now!
????????#Oscars pic.twitter.com/EdpgTJzWDp

— Zac Stacy (@ZSTACY_) February 27, 2017
Some people capitalized on the new meme of Ryan Gosling that took off during the show:
GOSLING KNEW. pic.twitter.com/Ps5214V0sr

— Mina Kimes (@minakimes) February 27, 2017
"I switched out the card for best picture" pic.twitter.com/lHoXF5HsZh

— Matt Zapotosky (@mattzap) February 27, 2017
And then…there was everyone who likened the show to the 2016 election, and made all sorts of political references:
when you hear they're declaring real winners late so you slide back thru to see what's poppin pic.twitter.com/xst2K6sDBv

— Hanif Abdurraqib (@NifMuhammad) February 27, 2017
You know what the problem is — millions of Academy members voted illegally.

— Seth MacFarlane (@SethMacFarlane) February 27, 2017
But La La Land's emails…

— Kyle Griffin (@kylegriffin1) February 27, 2017
OMFG MOONLIGHT ACTUALLY WON AND HILLARY CLINTON IS PRESIDENT! #Oscars

— Travon Free (@Travon) February 27, 2017
This is like the James Comey letter of awards shows. #Oscars

— Jonathan Wald (@jonathanwald) February 27, 2017
Most nights, I have a dream in which what just happened at the #Oscars actually happened on election night.

— Chris Murphy (@ChrisMurphyCT) February 27, 2017
Calling it now: Russia hacked the #Oscars.

— Jordan Uhl (@JordanUhl) February 27, 2017
If there's one thing that's truly American, it's our peaceful transfer of power from one #BestPicture winner to another. #Oscars

— Randi Mayem Singer (@rmayemsinger) February 27, 2017
In London, Assange is stroking his hairless cat and chuckling, "Take THAT Gosling."

— Rick Wilson (@TheRickWilson) February 27, 2017
"President Trump would like to congratulate La La Land for winning Best Picture. Period." pic.twitter.com/FojesVFULb

— Michael Cohen (@speechboy71) February 27, 2017
I don't believe anything anymore. We have to redo the Grammys, the Super Bowl, the ELECTION! It's all rigged! #Oscars

— Jasmyn Lawson (@JasmynBeKnowing) February 27, 2017
[Image via screengrab]
— —
>> Follow Ken Meyer (@KenMeyer91) on Twitter
Have a tip we should know? [email protected]