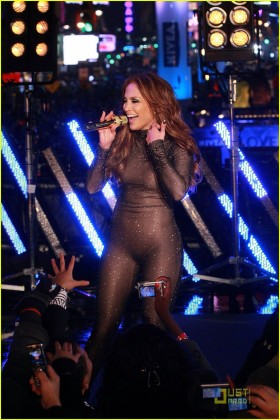 Aw. It's nice that in 2010 we can still get excited about a female singer whose entire body is covered from the neck down. Well, except that the singer is Jennifer Lopez and her body was covered in a sparkly skintight semi-see-through bodysuit that clung to her every famous curve. So 2010 — and so 2000, and so everything in between.
Last night on "Dick Clark's New Year's Rockin' Eve," J.Lo sang her back-to-back decade closers "Louboutins" and "Waiting For Tonight," but what people are talking about today is the bodysuit, so much so that it's trending on Google as "jennifer lopez new years outfit" and "j lo new years eve outfit." Well, good. Let 'em notice, she's 40 and just had twins and practically invented the stunt outfit. Like today's trending Google topics are an accident. This is J.Lo — a mother, a wife, and laying low these past few years but come on: she knows what she's doing.
(Okay, props to Cher on the stunt outfit thing, but still — J. Lo's Grammy 2000 dress is still a high-water mark. No doubt Lady Gaga was watching as a 13-year-old kid somewhere and thinking, hmmmm).)
So ten years later, don't be fooled by the rocks that she's got, because she's still she's still Jenny from the Block, and also, where would she hide those rocks anywhere? On that famous booty? (Say thank you, Kim Kardashian.) Clearly, er, not.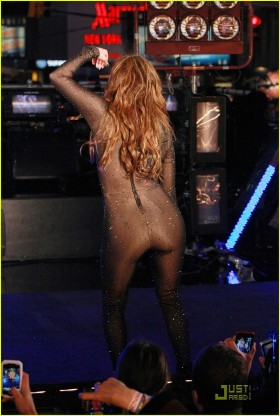 There are others to say "thank you" to J.Lo after her truly astonishing decade. She's receded quite a bit from view in the last few years, but wow has her influence been felt over the past ten years. People forget that talk of an upcoming Jennifer Lopez album was largely met with lukewarm not-really-caring (what? The chick from Anaconda?) and that Out of Sight had been her career high-water mark, in a completely different area. Then came "On The 6" — and that cover shot, which right away made headlines itself, followed by a few perfectly danceable songs with videos that wouldn't look out of place today. (When I think of Y2K-era videos, I think of her — remember her as a sultry cyber-seductress in "If You Had My Love?" Yes, I know "On The Six" came out in 1999, but the set-up was all 2000s.) Then she one-upped it by being in the news every single day with Puffy (back when Sean Combs slash P. Diddy was Puff Daddy) and wearing that Grammy dress — and that was before she became J.Lo and invented a whole new nomenclature for nicknames (say thank you, BriWi). Then she worked with a Rolodex of rappers and released an album entirely of remixes and somewhere in there launched a fragrance called "Glow" that was marketed based on her shimmering naked body. She had the number-one album and the number-one movie in the same week. She was officially J. Lo, Inc.
Then she dated Ben Affleck and was on the cover of Us Weekly pretty much weekly. The Onion ran a story: "No Jennifer Lopez News Today." (Also, remember that "Bennifer" predated "Brangelina"). She also did all of it entirely while in her 30s — and was part of a pretty crucial generation of women who refused to phase out of being hotties (I wrote about this phenomenon back in 2003). So she did Gigli. Big deal. They're still talking about that, too. (And her scenes with Affleck in Jersey Girl were genuinely affecting.)
Thinking back on J.Lo this decade — and to be honest, this is the first time I have, which is maybe another reason why she brought it so fiercely last night, or maybe she just wanted you to forget that fall at the AMAs — I really realized what a trailblazer she was for those who came after her. Beyonc&@##, Miley, Gaga, any actress who's ever released an album — they are all standing on the shoulders of J.Lo. She was a true triple threat — actress, singer, dancer — who brought it all and brought it all over the place, and packaged it sometimes outrageously but always sexily (redoing that iconic Flashdance scene – genius). She was also a fashion icon, and made the velour sweatsuit look ridiculously hot (say thank you, Juicy). I may have seen the ridiculous Wedding Planner on a plane, but I did watch it (and I wasn't on a plane for Maid In Manhattan, what can I say). But in the background, there was always Out of Sight. I'm still trying to think of someone hotter with George Clooney.
So yeah. Jennifer Lopez. J.Lo. It took a decade for me to realize it, but I sort of love her.
p.s. "Fitting end" was a wholly unintentional pun. Video below.
Jennifer Lopez: Skintight Sexy on New Year's Eve [Just Jared]
Jennifer Lopez' New Year's outfit; singer stalks into 2010 in a glimmering skin tight catsuit [NYDN]

(Pics via Just Jared; there's a photogallery there, too.)
Have a tip we should know? tips@mediaite.com