Jan Brewer Ain't Bluffing: AZ Governor Vetoing All Bills Until Medicaid Expansion Passes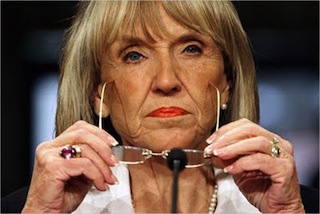 Arizona Governor Jan Brewer's characteristic stubbornness, was on full display Friday for a jaw-dropping cause: Medicaid.
Making good on a threat to veto all legislation until the Arizona legislature approved a 2014 budget and passed Medicaid expansion, Brewer shredded five bills, including one allowing people to sue over violations of religious freedoms, and another detailing plans for failing schools.
Brewer was brazen over the cause: "I warned that I would not sign additional measures into law until we see resolution of the two most pressing issues facing us: adoption of a fiscal 2014 state budget and plan for Medicaid. It is disappointing I must demonstrate the moratorium was not an idle threat."
The governor savaged her state's legislature, which she said had been in session for 130 days without passing a budget. "We have just five weeks until the end of the fiscal year," Brewer wrote, "by which time it is necessary that the state of Arizona have a new budget in place in order to assure there is no suspension of critical services or programs."
The Arizona Senate cobbled bipartisan support for the Medicaid bill last week, but the law has stalled in the House.
Brewer's actions in favor of Medicaid expansion contrast sharply with her gubernatorial counterparts in Texas, Maine, and Florida, who have actively resisted the Medicaid expansion portion of Obamacare the Affordable Care Act (though Rick Scott has since acquiesced).
Arizona Republicans, meanwhile, have been receiving threats to their safety for supporting Medicaid expansion. One letter sent to legislators quotes the Second Amendment and references shooting in self-defense.
Maricopa County Republican Chairman A.J. LaFaro—the very same Maricopa County that elected "America's Toughest Sheriff," who got some bad news of his own yesterday—wrote to the Republican senators who voted for Medicaid, warning that "their political careers are all but over and their days are numbered." LaFaro called Brewer a "rogue governor," surely a strange appellation for one of the most conservative figures in the country.
Despite all this, Arizona lawmakers are optimistic about Medicaid's passage, all the more so now that everybody knows Brewer ain't bluffin'.
[h/t ThinkProgress]
—
>> Follow Evan McMurry (@evanmcmurry) on Twitter
Have a tip we should know? tips@mediaite.com