Jeb Bush Laments Journalists Portraying Traditional Values as 'Weird, Old-Fashioned'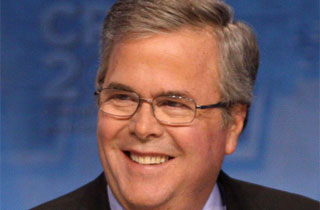 A new trove of Jeb Bush's old emails as Florida governor saw him engage regularly with reporters, while holding reservations that they just didn't "get" real America — excusable for Europeans, he admitted, but not for members of the news media.
The New York Times went through the archives of Bush's emails from his time as Governor of Florida, released in advance of his probable run for President, and discovered that Bush had a knack for reaching out to local reporters. Though he didn't reach out to them often, instead waiting for them to reach out to him, Bush was pretty good at staying in direct communication with the local media.
But when it came to the national media, Bush was adamantly closemouthed, as he wrote to one reporter visiting from Houston in 2006, who noted that he would not talk to the New York Times: "I am not doing national press interviews and it is not because of The New York Times. It is because I am focused on my job. I hope you enjoy your stay in the Sunshine State."
As he told a local bureau chief of the St. Petersburg Times in 2004, he believed that the national media was growing alienated from the traditional values dear to Floridians:
"I think it is a complete misunderstanding about the things that make many people tick. Going to church, abhorring what is on television, worrying about how kids view the world through the lens of the culture expressed through the media, a respect for traditional marriage, etc. These are concepts that are viewed in the media as weird, old fashioned or narrow minded. The Europeans don't understand it which can be explained. The fact that mainstream journalism doesn't understand it is a problem."
[The New York Times]
[Image via screenshot]
—
>> Follow Tina Nguyen (@Tina_Nguyen) on Twitter
Have a tip we should know? tips@mediaite.com