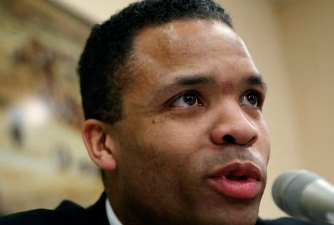 A Wednesday statement from Rep. Jesse Jackson, Jr.'s congressional office that the congressman is being treated at an undisclosed location for a 'mood disorder' further adds mystery to the circumstances surrounding his prolonged absence from Capitol Hill.
Late last month, Rep. Jackson's office announced he was in the middle of a leave of absence, after colleagues noticed he was out-of-sight on the House floor for nearly two weeks. They had originally said he was being treated for exhaustion, but a week ago his office said the ailment "is more serious than we thought and initially believed."
– RELATED: Jesse Jackson Jr.'s Undisclosed Ailment 'More Serious' Than Initially Believed
But a new statement from an anonymous physician, provided by Rep. Jackson's office to Talking Points Memo, claimed that the Illinois Democrat is being treated for an unnamed disorder:
The Congressman is receiving intensive medical treatment at a residential treatment facility for a mood disorder. He is responding positively to treatment.
In addition, the statement asserted, the rumors about Rep. Jackson being treated for alcohol or substance abuse are "not true." Citing federal medical privacy laws, the statement declined to name the doctor, the specific ailment, or where the congressman is receiving treatment.
The mysterious disappearance of Rep. Jackson — who is running for re-election this November — has led to fellow Democrats, including House Minority Leader Nancy Pelosi, calling on Rep. Jackson and his office to tell his constituents what exactly is going on. This latest statement, however, only serves to deepen the mystery.
(h/t TPM)
>> Follow Andrew Kirell (@AndrewKirell) on Twitter
Have a tip we should know? tips@mediaite.com