Nancy Pelosi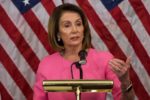 Nancy Pelosi an American Democratic politician from the state of California. Currently, Pelosi is the Speaker of the United States House of Representatives as of January 2019. She is the first woman to hold this position.
Nancy Pelosi Q&A
Where did Nancy Pelosi go to college?
Nancy Pelosi earned her bachelor of arts in political science in 1962 at Trinity University in Washington, D.C.
How old is Nancy Pelosi?
Born on March 26, 1940, Pelosi is 79 years old.
How long has Nancy Pelosi been in Congress?
Nancy Pelosi has been a member of Congress for over three decades. She was first elected into the U.S. House of Representative in 1987 where she represented California's 5th congressional district.
Latest Nancy Pelosi Stories