Jets Fans on Twitter Are Thrilled to Be Rid of Owner Woody Johnson, Trump's Pick For UK Ambassador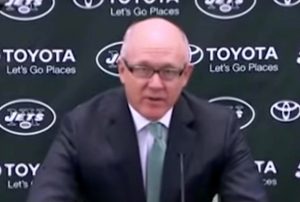 A move that had long been rumored is now official: New York Jets owner Woody Johnson has, according to multiple reports, been tapped by President-elect Donald Trump to serve as ambassador to the United Kingdom.
Johnson has been a donor to many republican candidates over the years — including Trump, for whom he served as a key fundraiser during the general election campaign.
During the republican primary, Johnson served as finance chairman for Jeb Bush — a fact that Trump pointed out with glee as Bush's candidacy faltered.
Woody Johnson, owner of the NYJets, is @JebBush's finance chairman. If Woody would've been w/me, he would've been in the playoffs, at least!

— Donald J. Trump (@realDonaldTrump) January 4, 2016
The news likely means that Johnson will turn day-to-day operations of the Jets over to someone else. And given the club's mostly subpar performance ever since Johnson purchased the team in 2000, Jets fans were elated with the news. The Jets are coming off of a 5-11 season, and haven't made the playoffs since 2010.
So naturally, a large portion of the fan base is hoping that Donald Trump Made the Jets Great Again with this appointment. Here's a sampling of the reaction on Twitter from fans, journalists, and others:
If Trump puts Woody Johnson in charge with U.K. the Jets might actually become great again. Thank you @realDonaldTrump

— Robert Dobek (@RobTheYankee) January 19, 2017
This is great news, FOR THE JETS. https://t.co/iJRezTm2Lx

— Bruce Ostrow (@ecurbo0122) January 19, 2017
Jets fans owe Donald #Trump a "Thank you" even of they didn't vote for him https://t.co/dSmaTaCn5C

— Cormac Gordon (@SI_CormacGordon) January 19, 2017
Woody Johnson is getting shipped to England?!?!?! We can finally rebuild. Maybe Trump presidency will have its good moments.

— Mustachio (@TeamGunnShow) January 19, 2017
@EnviousTardive oh yeah as an American its fucking ridiculous, but as a Jets fan it's great news. Woody was the reason for the Tebow debacle

— General Disarray (@formerly_sd27) January 19, 2017
Woody Johnson is taking his immense success at running the Jets and applying it to British relations. Who is Sanchez in this situation?

— Erik Loomis (@ErikLoomis) January 19, 2017
Donald Trump becomes president tomorrow. Woody Johnson is going to be ambassador to United Kingdom. What could possibly go wrong?

— Gary Myers (@garymyersNYDN) January 19, 2017
Woody Johnson is trying to get as far away from the Jets as possible https://t.co/4QrnmDI5Nb

— Ben Pershing (@benpershing) January 19, 2017
If you ever wondered how the jets could take Ls outside of the season and the draft (where they always do)… wonder no more. https://t.co/tGlxdVF9vc

— Joe Rickles (@JoeRix32) January 19, 2017
In Trump's defense, it's hard for America to "win again" when the Jets owner is stateside. https://t.co/RAalw7Uvuq

— Dan Primack (@danprimack) January 19, 2017
The curse is lifted! No longer will this reactionary billionaire meddle with the day to day Football Operations of the New York Jets!#Jets https://t.co/8KgwTTotns

— luke (@samoljets) January 19, 2017
The only way Jets owner Woody Johnson's appointment as ambassador to the UK is good for the America is if he takes the Jets with him.

— Mike Peters (@MikePeters24) January 19, 2017
"We're gonna put together the best and the brightest. Say, who's running the New York Jets these days?"

— the new ag secretary (@timothypmurphy) January 19, 2017
If Jets fans had known that a vote for Trump would ultimately mean Woody Johnson relinquished control of the team, might've helped in NY/NJ! https://t.co/1cHByL29kr

— Jane McManus (@janesports) January 19, 2017
Jets Super Bowl 52 Champions confirmed https://t.co/JhBfWae1G7

— Nick Castiglione (@nick_cas1) January 19, 2017
. @BillSimmons with Woody Johnson headed to the UK, any chance he can take the Jets with him?

— Peter Layton (@peterlayton) January 19, 2017
[image via screengrab]
–
Follow Joe DePaolo (@joe_depaolo) on Twitter
Have a tip we should know? tips@mediaite.com
Joe DePaolo - Senior Editor