Joe Walsh Calls For Heavy Investigation Into Russia Election Interference: 'This is Absolutely Crazy'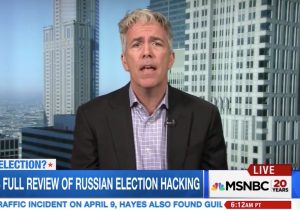 Joe Walsh, the former GOP Congressman from Illinois who now earns headlines for his more bizarre Twitter tirades, appeared on MSNBC Monday morning to continue his open criticisms against reports that Russia interfered with our presidential election.
Although back in October it was first reported that 17 different intelligence agencies were indicating Kremlin interference, the Washington Post released a bombshell report Friday that additionally showed that a CIA assessment revealed Russia was actively working to elect Donald Trump over Hillary Clinton. One senior U.S. official said, "It is the assessment of the intelligence community that Russia's goal here was to favor one candidate over the other, to help Trump get elected. That's the consensus view."
As the information came to light on Friday, the always-outspoken Walsh took to Twitter for a long rant, writing in part, "It will be utterly disgraceful if Republicans & Conservatives keep their mouths shut in the wake of what the CIA is saying about Russia."
He continued his sentiments Monday morning, telling MSNBC's Stephanie Ruhle, "I am so disappointed in my Republican colleagues… this is profoundly disappointing."
"[If] you mess around with our Democratic elections, that's an attack on our country," he alleged. "It's a fact — everyone knows it, all of my former colleagues on both sides of the aisle know it, all of our intelligence agencies know it — for Donald Trump to come out and call it ridiculous, man, he should be leading the charge! Demanding an investigation," he continued passionately.
"[Trump] has got to demand an investigation — we need an independent bipartisan investigation. Think about it: a foreign government interfered with our national election. Put down your partisan spear," Walsh pleaded.
"He's got to man up and own this," Walsh said of Trump, whose candidacy he had long been a supporter of. The former Illinois lawmaker argued that Trump's focus should not have been on attacking the CIA for its findings, but rather redirecting his attention towards those responsible for the attacks.
Watch above via MSNBC.
—
[image via screengrab]
Have a tip we should know? tips@mediaite.com