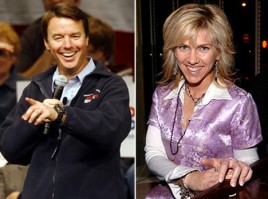 Color the world shocked. After months and months of denials, followed by damaging (and sometimes creepy) revelations John Edwards has finally, publicly admitted he is the father of former mistress Rielle Hunter's child. Edwards provided the following written statement to NBC News:
"I am Quinn's father. I will do everything in my power to provide her with the love and support she deserves. I have been able to spend time with her during the past year and trust that future efforts to show her the love and affection she deserves can be done privately and in peace.

It was wrong for me ever to deny she was my daughter and hopefully one day, when she understands, she will forgive me. I have been providing financial support for Quinn and have reached an agreement with her mother to continue providing support in the future.

To all those I have disappointed and hurt these words will never be enough, but I am truly sorry."
To say this man has made a mess of his political career is really wildly understating matters. So why now? One has to assume the deeply disturbing and damaging (as much for Elizabeth Edwards as John) revelations to come out of the book Game Change had something to do with it. Also, likely, some late desire to protect his family from further scrutiny, and one hopes a desire to do what's best for the child who is now two-years-old. In the meantime let's hope this is the last we hear from Edwards for a very long time. UPDATE: Apparently, Edwards is in Haiti.
Have a tip we should know? [email protected]