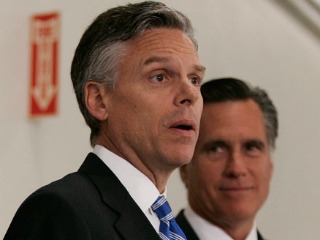 Yesterday, we told you about the trailer for When Mitt Romney Came To Town, a documentary that's being distributed by pro-Newt Gingrich super PAC's "Winning Our Future." Now we learn that a pro-Jon Huntsman super PAC, "Our Destiny," took a look at the documentary as well.
RELATED: The New Film From Pro-Gingrich Super PAC: Mitt Romney Is 'The Man That Destroyed Us'
Our Destiny key adviser Fred Davis told Politico that, after showing the half-hour documentary to the group's board, they "decided not to move forward with it" because "we simply saw it too late to seriously consider."
The short film's producer Barry Bennett, meanwhile, shared that Our Destiny was impeded by "money problems," despite expressing great interest in the documentary. Davis maintains the two did not have talks regarding money.
Bennett has said the film took $40,000 of his own money to make, using source material from "three opposition research files" produced by Mitt Romney's 2008 GOP rivals. Gingrich himself has not hesitated to make reference to Romney's role at Bain throughout his campaign, telling reporters at a news conference Sunday that "we find it pretty hard to justify rich people figuring out clever legal ways to loot a company, leaving behind 1,700 families without a job." This morning, he also told CNN's Soledad O'Brien that he does not find his comment regarding Romney's wealth and money spent on ads "hypocritical."
RELATED: Soledad O'Brien Grills Newt Gingrich On Whether Going After Romney's Spending Is 'Hypocritical'
Winning Our Future ultimately doled out $40,000 for the ad, which will form a part of a multi-million dollar ad campaign to debut this week in South Carolina.
h/t Politico
Have a tip we should know? tips@mediaite.com