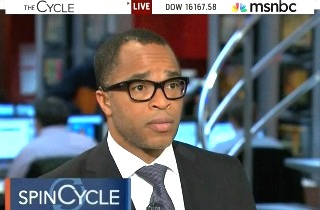 On Monday, Washington Post liberal columnist Jonathan Capehart joined an ever-growing chorus of pundits who are embracing the Justice Department's most recent claims that, based on "credible" evidence, Michael Brown did not have his hands up in a mode of surrender when former Ferguson, Mo., police officer Darren Wilson fatally shot him.
Earlier this month, after the DOJ cleared Wilson of civil rights violations in connection with Brown's death, many on the right began pointing to a specific part in the DOJ report that says the claim Brown had his hands up before Wilson shot him was "inconsistent with the physical evidence" and "not credible."
In a Monday Post column titled, "Hands up, don't shoot was built on a lie," Capehart did what few commentators have done: write an entire column admitting they were wrong.
In those early hours and early days, there was more unknown than known. But this month, the Justice Department released two must-read investigations connected to the killing of Brown that filled in blanks, corrected the record and brought sunlight to dark places by revealing ugly practices that institutionalized racism and hardship. They have also forced me to deal with two uncomfortable truths: Brown never surrendered with his hands up, and Wilson was justified in shooting Brown.
Capehart went on to say that Brown is an "inappropriate symbol" for the unstable relationship between African-Americans and law enforcement, as well as for police "militarization" against protesters. The DOJ report, he wrote, "made me ill."
"Through exhaustive interviews with witnesses, cross-checking their statements with previous statements to authorities and the media, ballistics, DNA evidence and results from three autopsies, the Justice Department was able to present a credible and troubling picture of what happened on Canfield Drive," Capehart wrote. "More credible than the grand jury decision to not indict Wilson. The transcript of his grand jury testimony read like so much hand-holding by the prosecution."
He also acknowledged another DoJ report which found that Ferguson police officers sent racist emails and disproportionately targeted African-Americans for traffic stops and other misdemeanors, and said the outcome of the Brown shooting investigation should not "diminish the importance of the real issues unearthed in Ferguson by Brown's death," which are being exemplified by the "Black Lives Matter" movement.
Then came Capehart's admission of fault:
Now that black lives matter to everyone, it is imperative that we continue marching for and giving voice to those killed in racially charged incidents at the hands of police and others. But we must never allow ourselves to march under the banner of a false narrative on behalf of someone who would otherwise offend our sense of right and wrong. And when we discover that we have, we must acknowledge it, admit our error and keep on marching. That's what I've done here.
Cable news hosts embracing the DOJ report to which Capehart refers have included, but are not limited to, Megyn Kelly and Sean Hannity of Fox News and Joe Scarborough of MSNBC. In particular, Kelly went after the media for perpetuating a "lie" brought forth by politicians and pundits who "attacked cops across this country based on the myth" that Brown was shot "while surrendering with his hands up." Similarly, Hannity interviewed a Ferguson protester who did not seem to know that the DOJ report disproved the "hands up, don't shoot" claim, while Scarborough and MSNBC colleague Lawrence O'Donnell got into it over that very same claim.
[Image via screengrab]
— —
>>Follow Andrew Desiderio (@forza_desiderio) on Twitter
Have a tip we should know? tips@mediaite.com