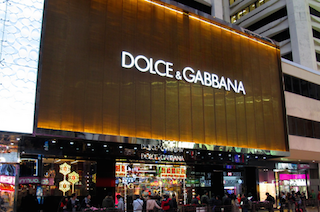 Over the last 48 hours, Elton John's proposed boycott of Dolce & Gabbana has picked up some serious steam. The openly gay singer lashed out the openly designers Domenico Dolce and Stefano Gabbana for using the term "synthetic" to describe the children of gay couples who are not conceived naturally.
"How dare you refer to my beautiful children as 'synthetic,'" John wrote on Instagram in response. "And shame on you for wagging your judgemental little fingers at IVF – a miracle that has allowed legions of loving people, both straight and gay, to fulfil their dream of having children," he added, using the hashtag #BoycottDolceGabbana.
After celebrities like Ricky Martin, Martina Navratilova and Al Roker joined the cause online, the company's founders issued a short statement saying they never intended to "judge" anyone else's choices.
But now, in an interview with the Italian newspaper Corrier Della Sera, Gabbana has lashed out at John for what he sees as "ignorance" on the subject:
"I wasn't expecting it. I wasn't expecting it from someone like Elton John I used to think – and I stress 'used to' – was intelligent. What's going on? You preach understanding. You preach tolerance. And then you put the knife in? All because someone else doesn't see things your way? Is that supposed to be a democratic way of thinking? Enlightened? He's ignorant, in the sense that he denies ways of seeing things that may not be his but are just as deserving of respect".
So far, John's original post has received more than 20,000 likes. On Monday, he posted this photo without referencing the boycott:
[Photo via Wikimedia Commons]
— —
>> Follow Matt Wilstein (@TheMattWilstein) on Twitter
Have a tip we should know? tips@mediaite.com