Josh Duggar Relative Rips Him for Ashley Madison Account: 'He Blasphemed the Name of God'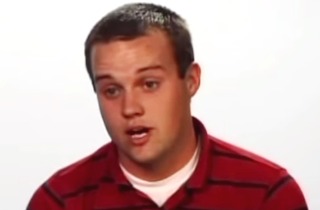 Ever since Josh Duggar publicly admitted he had an Ashley Madison account (and what he described as a porn addiction), some of his relatives haven't been shy about coming out of the woodwork and lambasting him for what he did.
Back when the Duggar family was reeling from the revelation that he had molested young girls when he was a teenager, including his own sisters, Jessa Duggar's father-in-law Michael Seewald wrote a lengthy defense of the family on his blog, speaking of how the family struggled with their faith and did everything they could to "confront the sin."
But Seewald has another blog post out today, this one really going after Duggar for his sin and hypocrisy, saying, "It distresses me to say that Josh Duggar's greatest sin is a byproduct of the sum total of his secretly sinful lifestyle."
He writes at length about disturbing Christian moral hypocrisy and says of Duggar in particular, "He blasphemed the name of God. He claimed to be a Christian, but by his deeds he has suggested otherwise. With the name of God on his lips he lived a covert and extensive lifestyle of evil."
And Seewald continued:
The thing that is so hurtful is that he was a loud voice endorsing Christian ethics and he has been shown to be a fraud. I am profoundly grieved that he attained such a platform only to bring shame on God's holy name and the Christian faith. After hearing of Josh's scandal when he was a teenager, I publicly stated that Josh appeared to be a changed man, was walking above reproach, and living out the faith that he professed. I stood in solidarity, encouraging him to use the scandal to build humility and grace. Sadly, he had deceived us all. The name of God has been blasphemed and God is jealous for his name.
Duggar has since entered rehab.
[h/t TheWrap]
[image via screengrab]
— —
Follow Josh Feldman on Twitter: @feldmaniac
Have a tip we should know? tips@mediaite.com
Josh Feldman - Senior Editor