Kansas Governor Sam Brownback Apologizes To High Schooler Emma Sullivan Who Said He 'Sucked'
Gov Sam Brownback Apologizes To High Schooler Emma Sullivan Who Said He 'Sucked'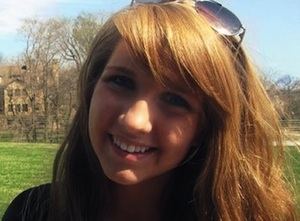 Kansas Governor Sam Brownback apologized to Kansas high schooler Emma Sullivan for staff contacting her school over her tweet saying he "sucked." "My staff over-reacted to this tweet, and for that I apologize. Freedom of speech is among our most treasured freedoms," Brownback said in a statement posted on his Facebook. "I enjoyed speaking to the more than 100 students who participated in the Youth in Government Program at the Kansas Capitol. They are our future. Again, I apologize for our over-reaction."
Sullivan had tweeted last week that the Governor "sucked", adding that "he blows alot", prompting Kansas State officials to notify her school: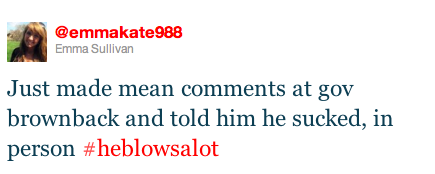 RELATED: Kansas Gov. Sam Brownback Gets High School Kid In Trouble After She Tweeted He 'Sucked'
MJ Lee of Politico reported that Sullivan's high school also released a statement that they had not forced her to apologize over her controversial tweet:
"The district has not censored Miss Sullivan nor infringed upon her freedom of speech. She is not required to write a letter of apology to the Governor. Whether and to whom any apologies are issued will be left to the individuals involved," the Shawnee Mission School District said, citing a student's right to freedom of speech.

The school district also said that the Twitter incident "resulted in many teachable moments concerning the use of social media."
Politico's Tim Mak added that the backlash has resulted in Sullivan's Twitter followers to triple those of the Kansas Governor.
Read the Governor's full statement below: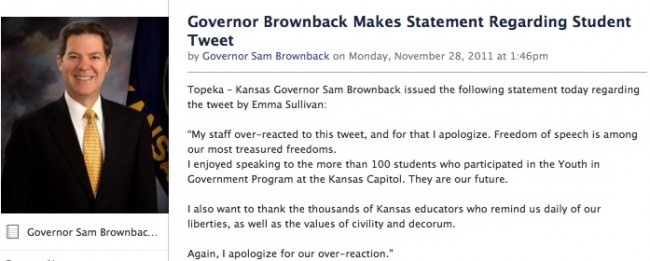 Have a tip we should know? tips@mediaite.com