High-School Sam Brownback Twitter Critic Emma Sullivan Responds To Governor's Apology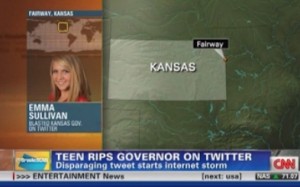 Republican Governor of Kansas Sam Brownback got into an unwinnable fight with an 18 year-old Twitter critic last week when his staff ratted out Emma Sullivan for tweeting her disapproval of Brownback, in colorful terms. Now, Brownback has wisely apologized for his staff's "over-reaction," noting that ""Freedom of speech is among our most treasured freedoms."
Ms. Sullivan appeared on CNN this afternoon to discuss the tweet that went from banter among friends to national news story.
Early last week, Ms. Sullivan caught the attention of Brownback's staff when she sent this tweet to her 65 followers:
Just made mean comments at gov brownback and told him he sucked, in person #heblowsalot
Sullivan, who was participating in a Youth in Government program, later said she had not spoken to the Governor, and was "just joking with friends."
Unfortunately, Brownback's staff turned the tweet into a national news story by complaining to Sullivan's school, prompting a visit to the principal's office, and a (since-retracted) demand for an apology from her principal, which Sullivan refused.
In an interview with CNN's Brooke Baldwin, Sullivan was unapologetic about the tweet, explaining that it was intended only for her small group of friends to see, but she did allow that, were she ever to meet Brownback, she "wouldn't use that language. At that time I was speaking to my 60 followers."
Baldwin also asked Sullivan why she had such a low opinion of the Kansas Governor. "He was actually, at the time, talking about his plan for education and funding," Sullivan said, but didn't get any more specific than that.
"I do know his background and I do know what I believe in and I know what he believes in, and I know that they don't match up."
Baldwin wound up the interview by reading Brownback's apology to Sullivan, asked if she would be willing to meet with the Governor,  and offering her one last chance to apologize.
"I wouldn't mind maybe voicing my opinions to him," Ms. Sullivan said. "I'm not a politician myself. so I can't sit down and tell him, this is what you need to do for, you know, this, this and this, different policies, or what he needs to do to help our education system."
"But I wouldn't apologize for the tweet itself because, like I said, that was aimed toward my audience, not aimed toward him. I wasn't talking directly towards him. It was to my high school friends."
The Governor's office was, indeed, wrong and heavy-handed in complaining to the school, and the school was wrong to demand an apology from Emma Sullivan. However, while her intent was not for Sam Brownback to read her tweet, she acknowledges that she wouldn't have used that language to his face. Perhaps the question shouldn't be if she's sorry she sent the tweet, but if she regrets that Gov. Brownback read it. The larger question is, in the social media age, should anyone ever tweet something that they wouldn't say to their subject's face?
Here's the clip, from CNN:
Have a tip we should know? tips@mediaite.com