Kanye West And Pres. Bush Squash Beef; New Beef Between Kanye And Matt Lauer?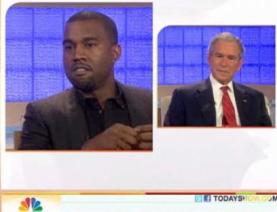 One of the first major takeaways from the pre-released transcript excerpts from Matt Lauer's sit-down with Pres. George W. Bush related, surprisingly, to Kanye West.
Lauer took advantage of the live interview this morning on the Today show to address this head-on, with a soundbite from West himself.
Lauer told Bush West stopped by yesterday to respond. Here's what he said:
I would tell George Bush, in my moment of frustration, I didn't have the grounds to call him a racist. But I believe that in a situation of high emotion like that, we as human beings don't always choose the right words.
There's was clearly more, but that's where it was cut off during the Bush live interview. Maybe they'll post it in full online?
"Well I appreciate that," said Pres. Bush, although he noted it "wasn't just Kanye West." He continued: "I'm not a hater, I didn't hate Kanye West. I was talking about an environment in which people would say things that hurt. Nobody wants to be called a racist if in your heart you believe in equality of race." (He actually called him Conway West, which was kind of endearing actually.)
Meanwhile Kanye West seems to have found a new person to beef with: Lauer. On Twitter last night, West had one of his trademark Tw-meltdowns over the interview. According to West, there was a lot more that didn't get shown – including a portion where Lauer and the Today show played his MTV stage-crashing: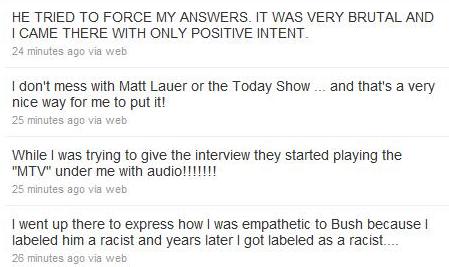 A few minutes later…




What will Lauer say?!
Here's the Kanye section below, and check out the full interview today on Today here:


—–
» Follow Steve Krakauer on Twitter
Have a tip we should know? tips@mediaite.com