'Keep Up the Good Fight': Tom Hanks Gifts WH Press Corps Espresso Machine, Words of Encouragement
It seems that Tom Hanks has a new charity of choice: The White House Press Corps.
NBC News National Correspondent Peter Alexander took to Twitter late Thursday morning to show of the newest member of the White House press room.
BREAKING: White House press corps receives brand-new espresso machine from @tomhanks. Come for the coffee… stay for his note. ? pic.twitter.com/cirbLKHEt0

— Peter Alexander (@PeterAlexander) March 2, 2017
And apparently this isn't the first time that first time that Forrest Gump has sent the Press Corps a new coffee machine. CNN's Jake Tapper says that this is the "third time in the last few years" that Mr. Hanks has sent this specific gift.
This is the third time over the last few years that Mr. @tomhanks has sent a brand new espresso machine to the White House press corps pic.twitter.com/TRkSKBwlYe

— Jake Tapper (@jaketapper) March 2, 2017
Hanks attached a note with gift.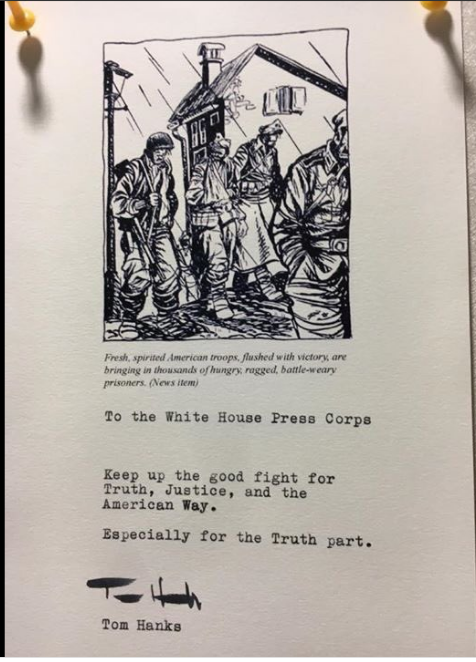 The picture seems to be an old-timey lithograph, depicting American soldiers leading "hungry, ragged, battle-weary prisoners."
The metaphor isn't hard to catch given Hanks's personal inscription: "Keep up the good fight for Truth, Justice, and the American Way. Especially for the Truth part."
As for why the Cast Away star has a habit for gifting new espresso machines to the Press Corps every few years, well, we can only imagine, given some of the performances we've seen in recent press briefings, that the thing gets a lot of use. Perhaps First Lady Melania Trump will respond in kind and gift the Press Corps a palate of herbal teas, given her recent propensity for singing the praises of natural remedies.
[image via screengrab]
Have a tip we should know? tips@mediaite.com