White House Responds: Sean Spicer Calls Sessionsgate 'False Narrative for Political Purposes'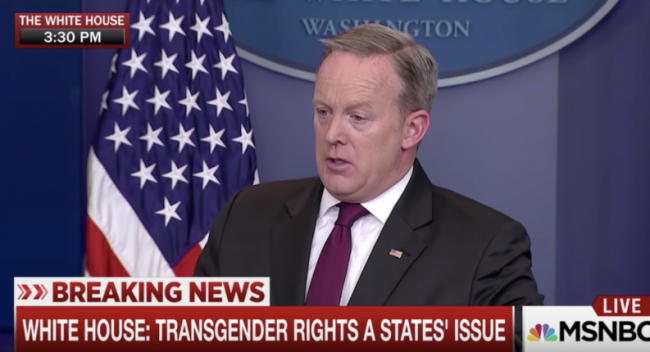 The White House issued a formal response to the controversy swirling around embattled Attorney General Jeff Sessions. America's top cop is accused of not disclosing meetings he had with the Russian ambassador during his Senate confirmation hearings. In an interview with Fox anchor Abby Huntsman Wednesday, White House spokesman Sean Spicer dismissed allegations of impropriety surrounding Sessions.
"[Jeff Sessions] was 100% straight with the [Judiciary] committee," said Spicer. "I think this is Democrats continuing to push a false narrative for political purposes."
EXCLUSIVE: @seanspicer responds to calls for AG Jeff Sessions to resign | @HuntsmanAbby pic.twitter.com/dLZ7XSiRz1

— FOX & friends (@foxandfriends) March 2, 2017
Spicer's comments echoed a statement released by the White House.
"This is the latest attack against the Trump administration by partisan Democrats," a White House official said in an early morning statement.
The official explanations have so far failed to quell a growing rebellion among elected officials, with a bipartisan consensus emerging that Attorney General Sessions should recuse himself from any official probe into Russian election meddling. In comments to NBC earlier today, Sessions said he would be open to such a recusal. A number of Congressional Democrats, including Senate Minority Leader Chuck Schumer and House Minority Leader Nancy Pelosi, have gone further, calling for Sessions' resignation.
The news comes at an unwelcome time for President Donald Trump, who had repeatedly failed to put rumors of his own Russia ties to bed since before he was elected president. The disclosure also marks an abrupt end to the glowing coverage Trump received after his widely praised speech to a joint session of Congress on Tuesday.
[image via screengrab]
Have a tip we should know? tips@mediaite.com